Get the Facts: National Drug and Alcohol Facts Week
By: Justine Smith, New Media/Web Content Coordinator
DePaul's National Council on Alcoholism and Drug Dependence- Rochester Area (NCADD-RA) is helping promote National Drug and Alcohol Facts Week® (NDAFW). Held January 23-27, 2017, the week "is a national health observance for teens to promote local events that use NIDA science to SHATTER THE MYTHSTM,SM about drugs."
NCADD-RA added an interactive bulletin board back in 2016 to counteract the myths about drugs and alcohol that teens learn from the internet, social media, friends and more.
Stop by the bulletin board, located in DePaul's Rochester Administration building, and see what you score on this National Drug & Alcohol IQ Challenge. Or, take the quiz online here.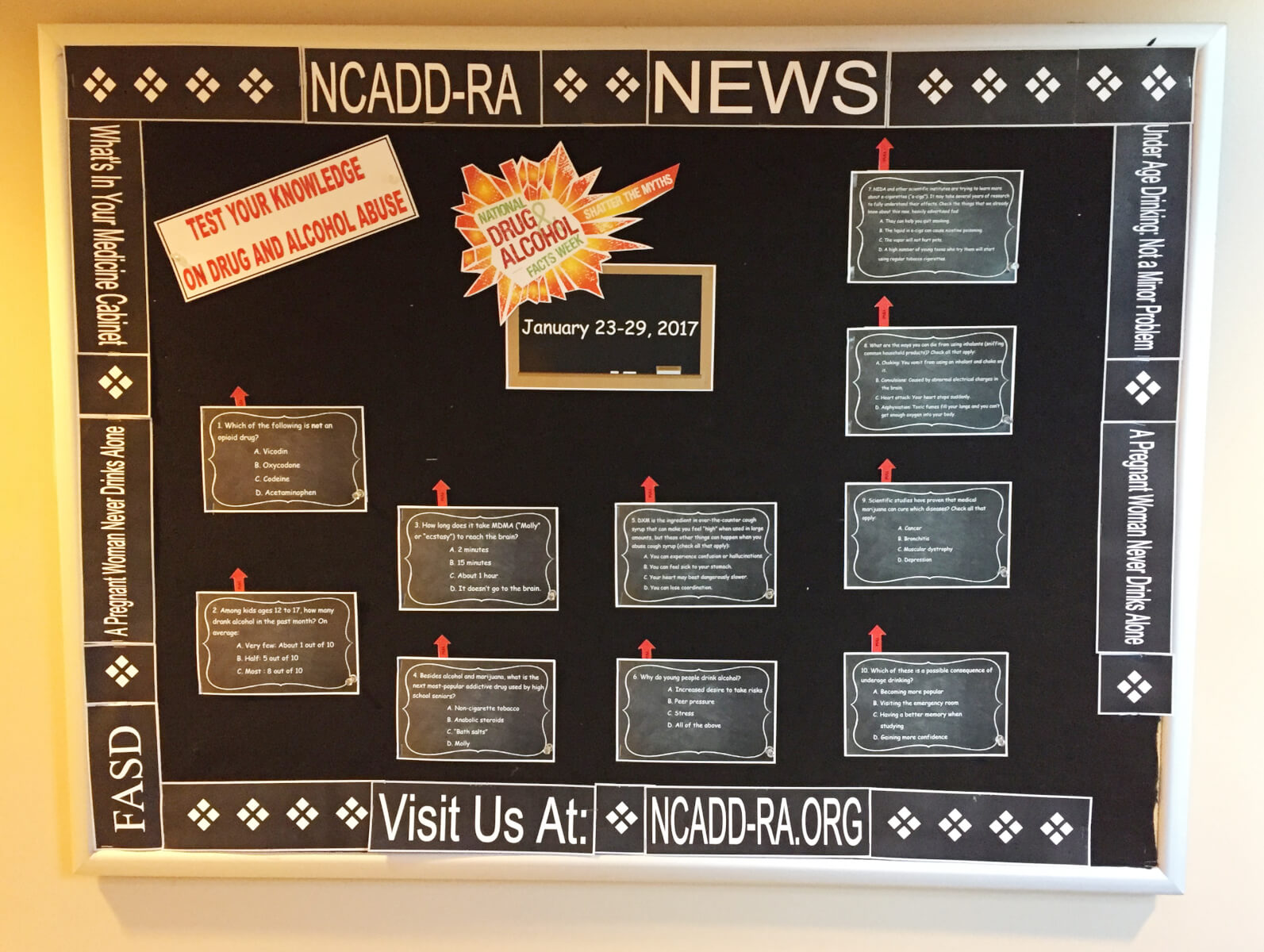 NCADD-RA promotes several awareness campaigns specifically related to youth, including:
Underage Drinking
Underage Gambling 
Prescription Drug Abuse 
Parents Who Host Lose the Most
DePaul's NCADD-RA provides community presentations on a wide variety of substance abuse-related topics upon request. We customize presentations to fit the need, interest and available timeframe of your school/university faculty, PTA/PTSA or other school groups including classroom presentations, outreach and clinical staff, youth and adult faith groups, or workplace organizations.
Topics include, but are not limited to:
Signs, Symptoms and Current Trends of Substance Abuse
Prescription/Over the Counter Drugs of Misuse/Abuse
"Medical" Marijuana, Synthetic Drugs of Abuse
Underage and Binge Drinking
Fetal Alcohol Spectrum Disorders
Impact of Addiction on the Family
Problem Gambling: Impact on Families and Communities
For further information or to schedule a customized presentation with NCADD-RA staff, please contact Beth McNeill, NCADD-RA's Community Education Coordinator, at bmcneill@depaul.org or (585) 719-3489.