Putting the Heart in Human Services
June is Human Services Month! To honor DePaul and the work we do here, we asked our staff to tell us what working at a human services agency has taught them or how a small act of kindness has made a big difference for residents, staff or others impacted by our agency. We have been sharing some of the responses on social media.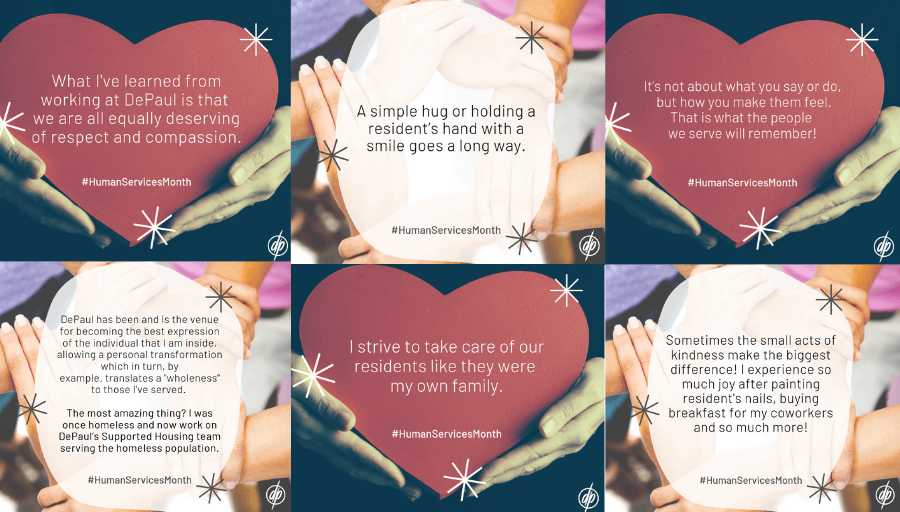 The goal of most human service organizations, including DePaul, is to transform the lives of the people it serves through quality programs while offering hope for the future. Every employee at our agency has a critical role and a sense of purpose in carrying out DePaul's vision of being a model health and human service agency known for its integrity, professionalism, and uncompromising commitment to our staff, our community, and foremost to those we serve.
If you strive to make a difference in your job and in your community, you'll find a career in human services rich in rewards…from engaging your heart and mind, to being part of a dedicated team of employees focused on providing impactful outcomes which enrich the lives of those we serve.
Whether you are graduating from college, seeking a new work environment or simply want to help others in a rewarding job, a job in human services could be the perfect fit. If you or someone you know is looking for an opportunity to make a difference, DePaul has many job openings from which to pick and also offers an employee referral incentive to reward staff who refer potential new employees to our agency! As long as there are people in need, there will be opportunities to serve others.