Dayspring of Wallace Craft Bazaar: Meet the Artists
When Dayspring of Wallace residents laid eyes on the pieces of fabric adorned with a colorful farm scene, they were anxious to make something of them. Lovingly, they crafted two gorgeous quilted wall hangings which are proudly on display at the nursing station at the DePaul Senior Living Community in Wallace, North Carolina. There were over 50 offers to purchase them.
The fabric store where Activities Director Maria Iadonisi found the popular fabric had closed, but the response to the quilt gave her an idea to host a Fall Craft Bazaar to show off the talent among residents at Dayspring of Wallace. If you look beyond the painstaking needlework, each loop of crochet work, and button sewn with love on sale at this weekend's event, you'll find many decades of crafting and life experience.
"We've made all the pillows for our couches and porches," said Maria. "If the residents can't sew the pillows, they can stuff them. We have spent hours matching quilt squares and sewing. They are faster than I am, but I try to keep them busy."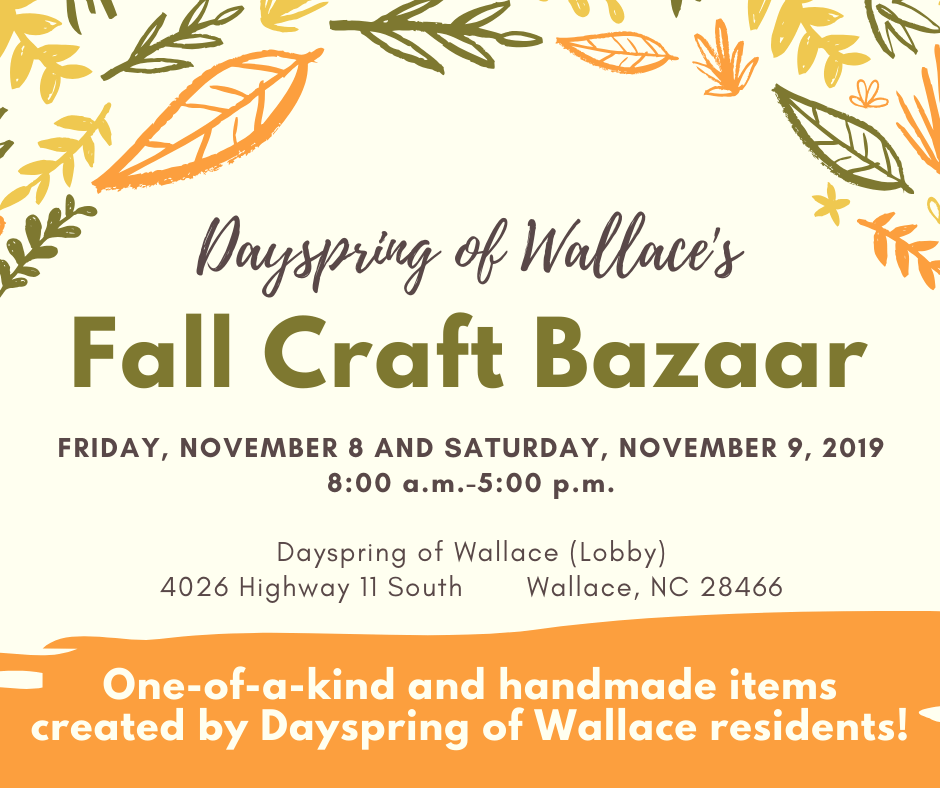 Meet some of the artists:
Elizabeth "Skeet" Horrell
Elizabeth "Skeet" Horrell's mother died when she was only seven. Learning to sew from her sister, Skeet married farmers, both of whom have since passed away. Having to stretch the family's money, she sewed clothes and made most of what they had.
Her first quilt was a "yo-yo" quilt made of hundreds of little circles sewn together. She is known in the community and her church for her biscuits! She is extremely generous with whatever she has.
Skeet has enjoyed having a reason to get back into quilting. In addition to the tractor quilts on display at Dayspring of Wallace, she has also completed four quilts for this weekend's Craft Bazaar.
Her advice for the younger generations is to "learn to work with your hands, learn how to preserve food and avoid fast food!"
Velma Jenkins
Velma Jenkins, a resident of Dayspring of Wallace for two years, says crafting "brings her back to the good years." Velma's life has not been an easy one. She had five children – one whom died at birth and another at six-months old. She stayed home raising her three sons while her husband ran a barbershop in Wallace after he returned from Korea and retired from the service.
The year her husband Jerry passed was one of the hardest. The family's home burned to the ground the day after Christmas, just after her dinner party guests had left. She and a friend narrowly escaped, and Velma lost everything. Although she was initially resistant to moving into a senior living community, she now agrees it was a blessing. She says being part of the Dayspring of Wallace family has helped her cope with loss.
"There are blessings in everything," she said. "Life isn't always fair all the time, but it can still be good!"
Wilma Herring
Wilma Herring is no stranger to the Wallace community. She operated a drape shop in town for 45 years. Wilma's drapes are now hanging in the Governor's mansion and she has been featured in Colonial Homes Magazine.
Her mother taught her how to sew. After marrying and starting a family, Wilma decided to leave her job at a doctor's office. She began sewing in a small shop in her backyard. She learned quilting in 1949 with the help of her mother-in-law. Wilma has never used a pattern and is famous for her 12-layer cake.
Wilma's advice is "dear heavens learn how to thread a needle and hem your pants so you don't ruin them."
Linda Porter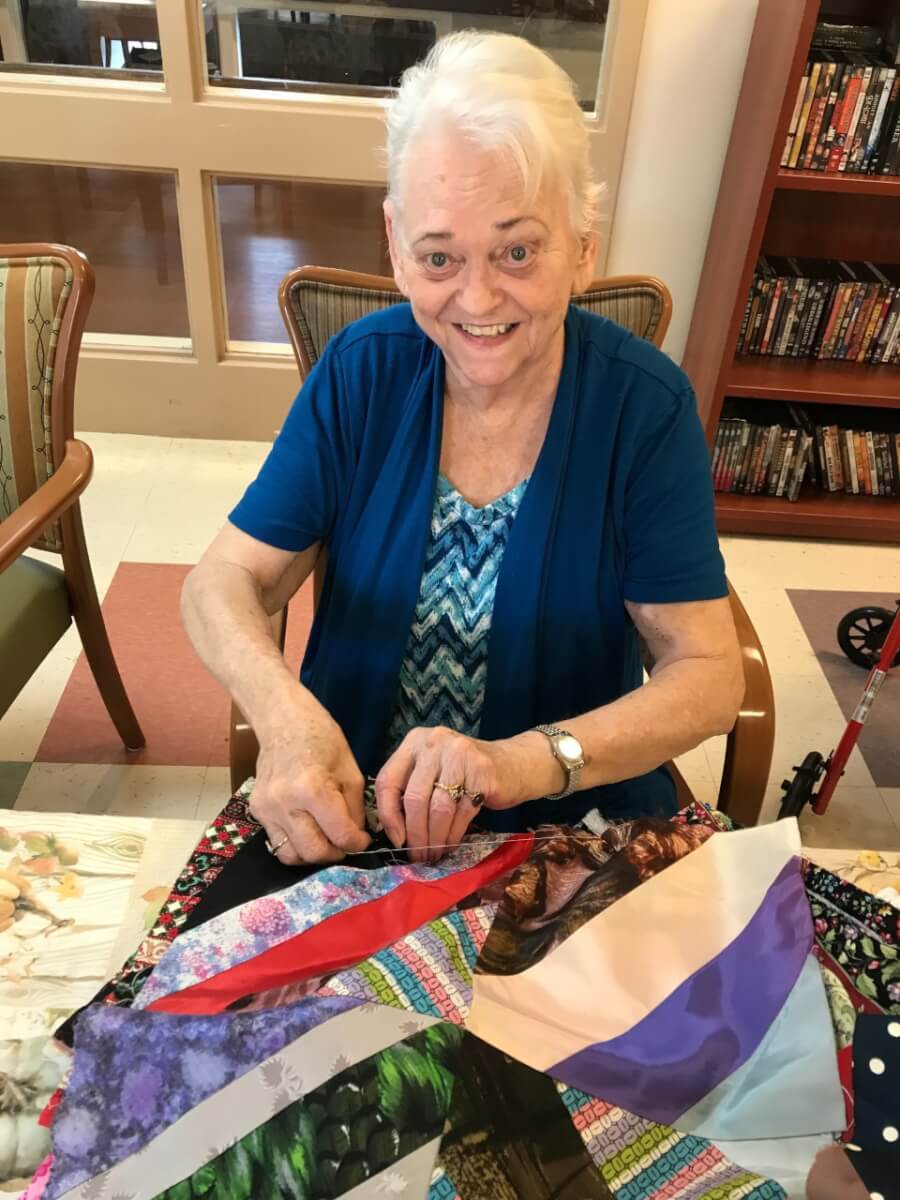 Linda Porter began sewing with her mother and sisters. She said it is wonderful fellowship. She made her kids clothes and quilts for her home. Dayspring of Wallace's sewing club has been the gracious recipient of many of Linda's unused craft supplies and projects.
Linda loves to do bead work, sew, embroidery, puzzles and color-by-number. She's an avid piano player and reader. Her daughter says she was always one to join the club of the month, and to this day, she's not one to be idle. In the evening, you can find Linda playing the piano in the lobby at Dayspring of Wallace while residents and visitors sing along.
Her advice is "never let your hands be idle and trust the Lord always."
---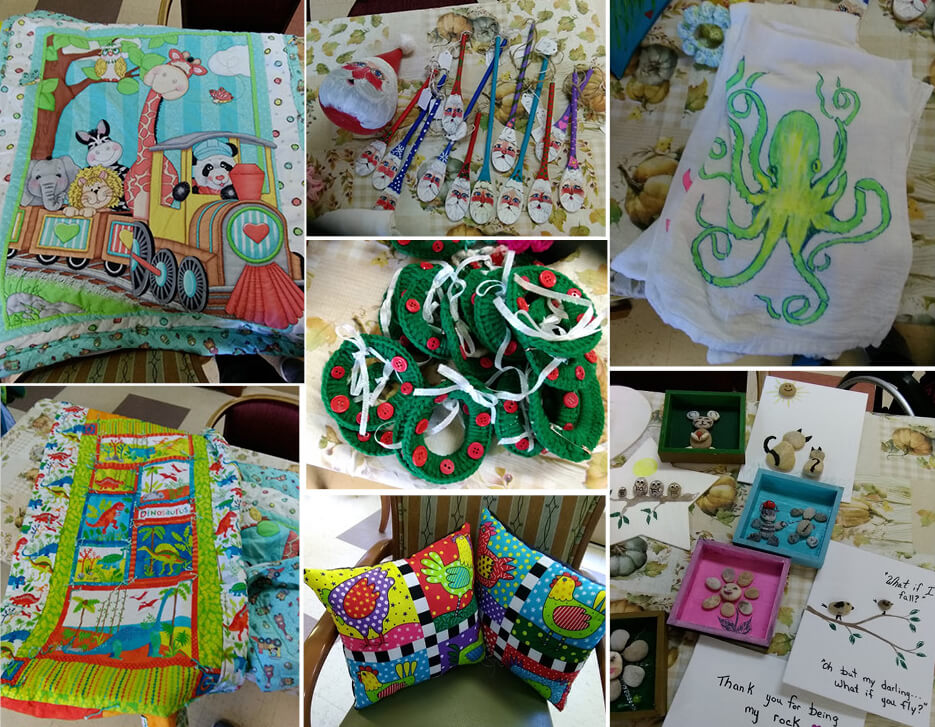 Handmade quilts, pillows, dish cloths, hanging hand towels and much more will be on display at this weekend's Fall Craft Bazaar happening from 8:00 a.m. to 5:00 p.m. on Friday and Saturday, November 8 and 9 at Dayspring of Wallace, located at 4026 Highway 11 South. Hosted by the Dayspring of Wallace Resident Council, proceeds will be used for the recreation fund.