Leaving Behind a Legacy of Kindness
By: Amy Cavalier, Communications/Development Coordinator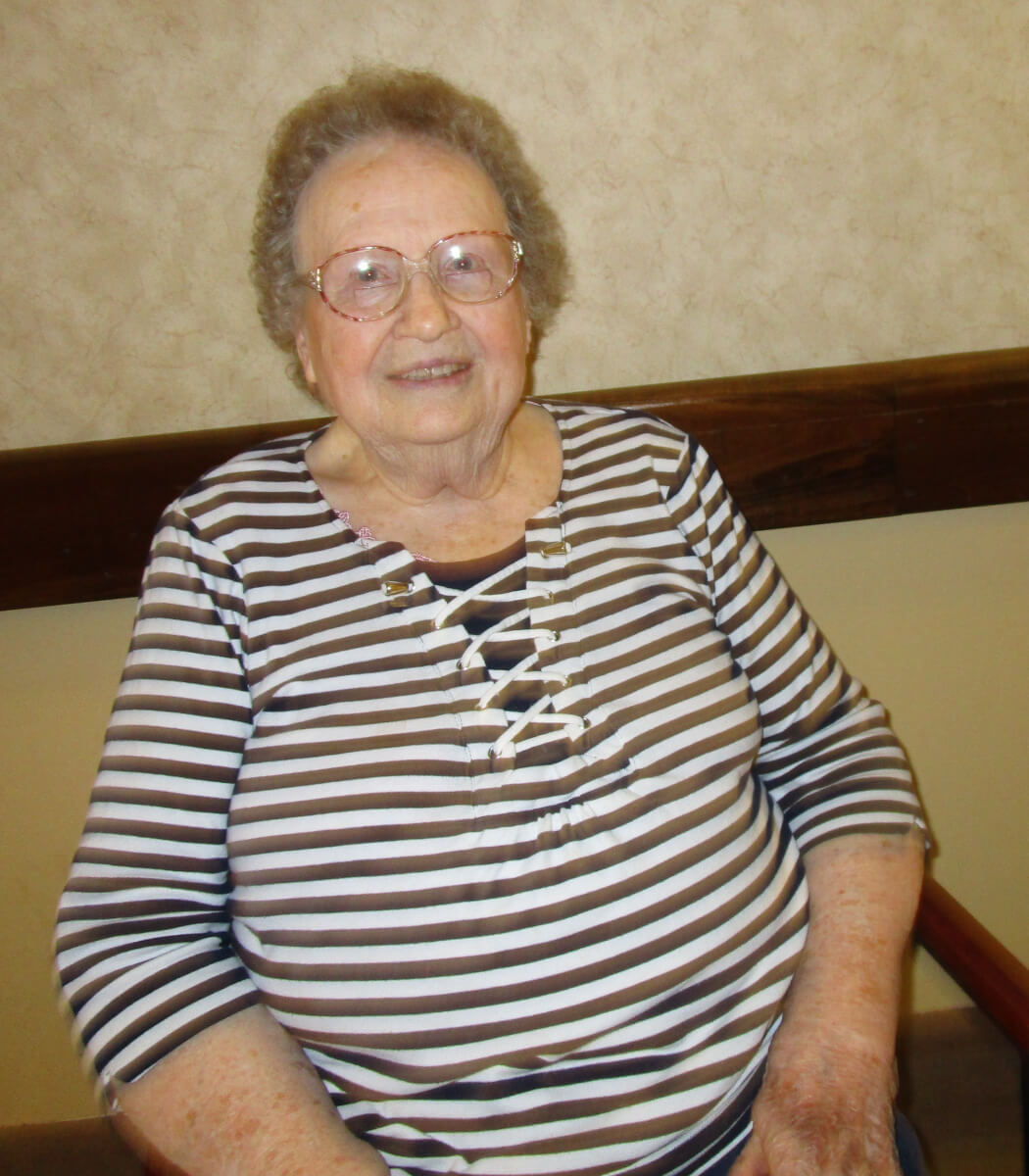 Lucille Capps is no stranger to cancer. A resident at Prestwick Village, a DePaul Senior Living Community in Laurinburg, North Carolina, her first husband died of the disease when he was just 41 years old. There was no hospice or local doctor in town at the time, so Lucille took matters into her own hands.
"He knew for 13 months that he wasn't going to live," she said. "I put a small bed in his room. I learned a lot about caring for sick people."
Earlier this year, when Lucille saw that Scotland Regional Hospice was looking for volunteers to care for patients nearing the end of life, she didn't hesitate to pick up the phone to lend a hand.
"When I was turning 90, I started thinking about the end of life and what happens down the road," she said. "I saw an ad in the paper for hospice volunteers. I liked what I read, and I decided to pick up the phone and call."
Volunteer Coordinator for Scotland Regional Hospice, Bunny Hasty answered.
"She was really glad to hear from me," said Lucille. "Then she asked me how old I was. That's when she threw on the brakes. She asked me how my health is at this age. I said I have all my hair and all my teeth. She was over here the next day to see who was crazy enough to volunteer for hospice at 92."
"I went over and she was a delight," said Bunny. "She's sharp as a tack."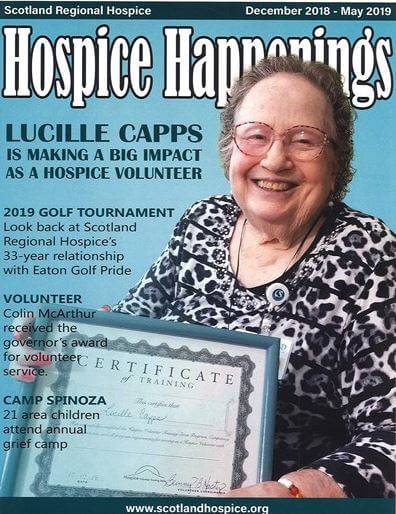 Bunny wasn't the only one who was impressed by Lucille's desire to become a hospice volunteer later in life. Lucille's timeless act of kindness captured the attention of Scott Mason, host of WRAL's Tar Heel Traveler. Lucille was featured on WRAL on Monday, November 25. She was also the profile of a cover story of Scotland Regional Hospice's December 2018-May 2019 Hospice Happenings.
With Lucille volunteering to make upwards of 30 patient visits a month, Bunny said she couldn't think of a volunteer more deserving of being in the spotlight.
"I'm thrilled that this has happened for her and I've been able to be a part of it," said Bunny. "She has made a difference in my life as well. I've learned a lot of things from her."
Natural Born Helper
Lucille was born, raised and married her first husband Alexander Mclean, a World War II veteran, and worked at Burlington Industry for 39 years in Wagram, North Carolina.
Despite raising four girls on her own and caring for her dying husband, Lucille still found time to volunteer. She taught Sunday school and volunteered at her church. She also started a Cancer Society in Wagram to raise money for a cure for cancer.
Lucille eventually remarried after she retired. When her second husband David Capps passed, Lucille's daughters chose to move their mother to nearby Prestwick Village so they could be available to help when needed. Lucille stays busy though, encouraging her kids to do the same.
"I tell them not to come unnecessarily," said Lucille. "They're all traveling, so as long as I'm doing good, I know they're doing good. We're all happy."
In order to become a hospice volunteer with Scotland Regional, Lucille had to complete about 14 hours of training which included a workbook with essay questions, information on maintaining patient confidentiality, medical and background testing, drug testing, as well as learning about the mission of hospice. To her astonishment, Bunny said Lucille scored very high on the training.
"I told her if you're really serious about this and it means that much to you, I'm going to help you make this happen," said Bunny. "It's a really good feeling to know somebody cares about people and patients as much as she does."
Scotland Regional Hospice provides services to patients at Morrison Manor as well as in area nursing homes, assisted living communities and in their homes. Volunteers must stay up-to-date on trainings. Lucille often attends meetings at Scotland Regional Hospice, located right across the street from Prestwick Village. In the spring, she gave each of the 38 patient care volunteers a pair of homemade earrings.
"Our hospice is very fortunate to have her," said Bunny.
Of the 38 patient care volunteers at Scotland Regional Hospice, Lucille is the oldest. She also racks up the most volunteer hours each month. From January to May, she put in 188 patient visits and 127 volunteer hours caring for hospice patients living at Prestwick Village. Lucille will take them to bingo, read them poems she's written, some of which have been published, plays meditation CDs for patients, paints their fingernails, gives them a gentle hand rub, and does puzzles and play games with them.
"I come up with anything I can to keep them entertained," said Lucille. "I want them to have a good life for the rest of the life they have."
Being a hospice volunteer is also helping Lucille come to terms with her own mortality.
"It's helping me see it for what it is," she said. "It's just the ending of a beginning."
Lucille said volunteering has kept her active and living a long and fulfilling life.
"The reward is when they put their arm around your neck and say 'I love you," she said. "I have people walk up to me and say Lucille, we'll never forget you. That's all the reward I'll need."