Centenarian Guest Essay: Jewel Roth
Jewel Roth is a resident at Prestwick Village, a DePaul Senior Living Community in Laurinburg, North Carolina. The following reflections and photographs are from her memoir, written by Jewel for a book created by her daughter Diane Anderson.
The Christian Life of Jewel Louise Boulineau Wampler Roth:
A Century of Memories
I, Jewel Louise Boulineau, the daughter of William Francis Boulineau and Leslie Gore Cooper Boulineau, was born on September 1, 1920, in the rural town of Stillmore, Georgia. My mama exclaimed, "She is a jewel!" I was the fourth child of mama and daddy's seven children. I was the thirteenth child of daddy's 16 children. My half brothers and sister, whose mother died at William's birth, were Henry, Hubert, Milton, Ernest, Sammy, Morris, Maggie, Roger and William. My siblings were Herbert, Everett "Little Buddy" who died from the Spanish Flu, Ray, Marie, Ida and Frances.
We rented a farm with many animals including Laura, the pet horse, work horses, mules, milk cows, chickens, sheep, pigs, hound dogs, turkeys, guineas, goats, ducks and geese. Daddy owned many beehives. Our family harvested okra, cucumbers, beets, peppers, lettuce, cabbage, squash, onions, tomatoes, corn, cantaloupe, watermelon, red candy yams, Irish potatoes, sugar cane and peanuts from in our enormous garden. Pecans, walnuts, peaches, plums, persimmons and pears were gathered from the trees. Cotton and tobacco provided a source of income.
At the age of nineteen, I moved to Savannah to live with my older brother and his wife. While working at Cheeseman's ice cream parlor, I was introduced to Sergeant Joseph William Wampler, Jr. a soldier stationed at Hunter Field in Savannah, Georgia. We double dated with friends to Tybee Island beach. Joe Junior and my love for each other flourished. On March 15, 1941, we married and resided in a downtown Savannah apartment.
When Joe, Jr. was sent to the Pacific arena in August 1941, I moved back to Stillmore with my parents. On the Philippine Islands, Joe, Jr. gave his family and fellow Americans the ultimate sacrifice of his dear life for our freedom. God comforted me after my adored son, Joseph Franklin Wampler, was born in the Metter Hospital on December 13, 1941. Many letters were written requesting the whereabouts of Joe, Jr. It would be three years before anyone in the family learned of his fate, because the Japanese would not allow the Red Cross on the islands.
In 1944, I moved to Savannah with little Joe, my parents, two of my siblings, and Hickman, whose mother, Ida, died from a goiter operation. Hick's father was serving in World War II. He suggested that I work at Hunter Army base as a secretary for the soldiers who repaired B29 Bombers. After World War II the base closed and my next employment was in downtown Savannah on River Street at the Veterans Office in 1946 where I helped veterans apply for disability.
In God's providence, another man was to enter my life. On Valentine's Day 1948, I visited the Highway 80 Club in Savannah. That night, my younger sister introduced me to Edwin August Roth, an engineer working in Savannah for Virginia Engineering Company. Subsequently, Ed called every day asking permission to visit me and little Joe at my parents' home. Many evenings Ed and I sat in the front porch swing near daddy in his rocking chair while our love for each other blossomed! Two months later, Ed took me to Freeman's Jewelry Store in downtown Savannah to buy an engagement ring and wedding bands! On April 9, 1948, Ed and I were married at a church in Savannah, Georgia.
Soon after, Ed's company transferred him to Philadelphia, Pennsylvania. God gave us a darling daughter, Diane Grace Roth, who was born at Temple University Hospital on May 19, 1949. Ed was finally transferred to the home office in Newport News, Virginia, in 1951. We moved into our home in Hampton. When Diane went to college, I honed my typing skills in order to be hired for a federal government civil service job. Eventually, I could type 60 words a minute without mistakes!
From 1966 until 1982, I was a United States Army civil service employee. My next service began at the Veterans Administration Office in Hampton, Virginia. In 1968, I transferred to McDonald Army Hospital. At Ft. Eustis, I first worked at the hospital admission desk before being reassigned as a receptionist for five surgeons in the Specialty Clinics of Surgical, Orthopedic and Podiatry of the Medical Department Activity in the McDonald Army Hospital at Fort Eustis, Virginia.
In 1973, Ed and I bought a Riddell boat, the Judy I. We spent many memorable Friday nights sleeping on the boat. For the next several years family members reeled into the Judy I tuna, flounder, sand sharks and numerous saltwater fish. Ed filleted and I broiled the fish providing delectable meals.
Ed retired from his construction company on April 22, 1980, after 40 years of dedicated service and became a member of the U.S. Coast Guard Reserve where he taught classes and inspected boats. Two years later, after twenty total years of working for the federal government in a civil service job, I retired and also joined the U.S. Coast Guard Reserve. In 1985, we sold our Hampton home. We purchased a house in Richmond Hill, Georgia on the Ogeechee River.
On Saturday, April 11, 1998, we gathered in Laurinburg with our children and grandchildren of Joe, Diane, Frances, and Grace gathered in to commemorate our 50th anniversary. We were thankful to gather, rejoice and feast!
My next big adventure was to Gatey, France, with several family members for a reunion. One hundred thirty-two family members met and consumed 100 French bread loaves, French onion soup, vegetables, tasty meat, champagne, wines and home brewed spirits. Everyone danced and sang! I will always cherish the memories of touring Germany, France and meeting my extended family.
In 2004, Ed's earthly journey was completed. We had 56 wonderful years together.
I had a glorious time with my children, grandchildren and great grandchildren as we celebrated my 90th birthday by gathering at Bonclarken Conference Center on August 27-29, 2010. I exhorted them to love and help each other while trusting in our Triune God.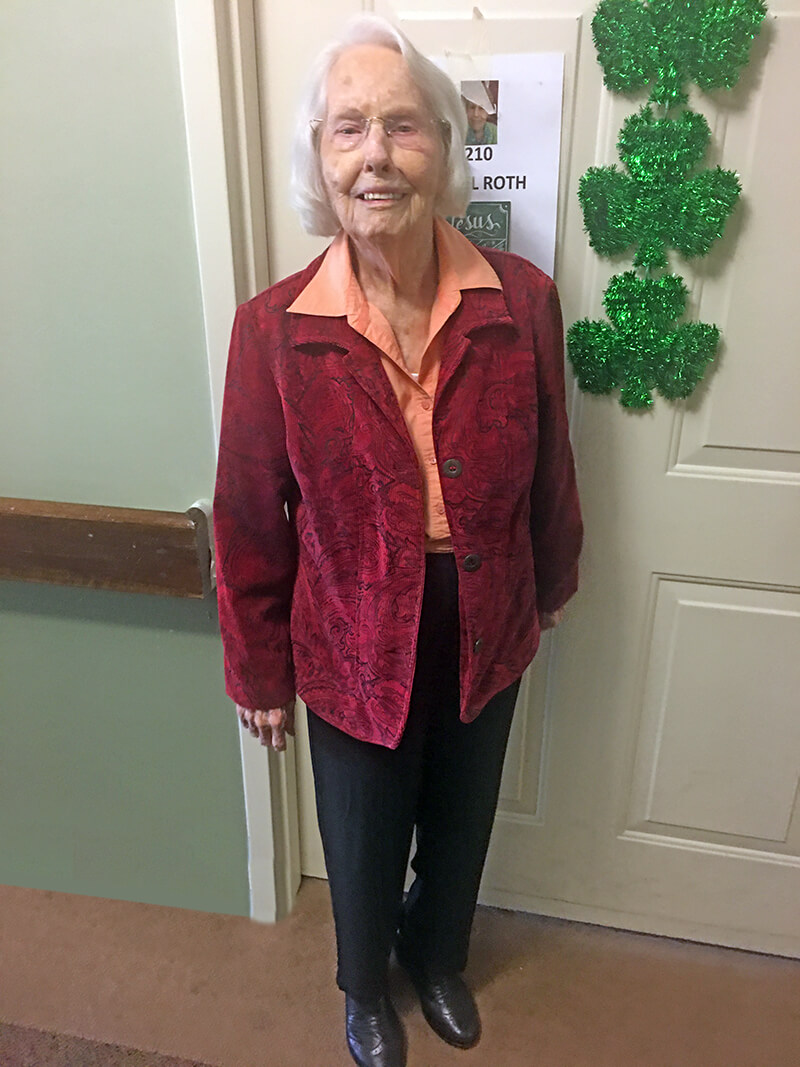 In March 2017, I fell and needed assistance for some of my everyday activities. My daughter and I were comforted with the lovely singing of "How Great Thou Art" emerging from the dining room as we walked through the front door of Prestwick Village. For over three years the considerate employees at Prestwick Village have become my dear friends. They are respectful and very knowledgeable as they care for me!
For a century, God has sustained me through the ebb and flow of life. I never thought about living to be 100 years old. I just trusted the precious care of Jesus for each day of my life. There is nothing that I would change about the delightful life God has given to me. I am most grateful for my cherished family members and the peace we have in Christ alone. I cultivated spearmint, red peppers, tomatoes and flowers in my yards. Now I am grateful that I can read my Bible and various magazines as I rest in my room at Prestwick Village. Hopefully, soon, we can resume the daily devotionals in the dining hall. My advice to everyone is to love God and be assured that He is with you each moment of every day. May the Lord bless you, keep you and give you peace!
"And he carried me away in the Spirit to a great, high mountain, and showed me the holy city Jerusalem coming down out of heaven from God, having the glory of God its radiance like a most rare jewel, like a jasper, clear as crystal." Revelation 21:10-11