Smiling Faces and Sticky Fingers (Woodridge)
August 17, 2016 (Monroe, NC) ─ With or without seeds; grilled or fresh; eaten with a fork or with your hands, Americans love their Watermelon! Residents at Woodridge Assisted Living and Memory Care, a DePaul Senior Living Community in Monroe, recently celebrated National Watermelon Day on August 3rd with some fun crafts and tasty slices!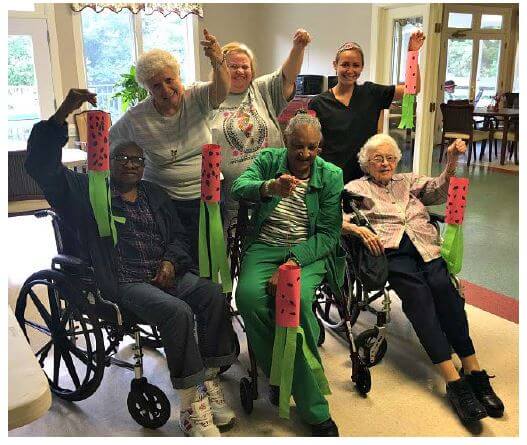 Pictured here are Woodridge residents Wortha Jackson, Jacquelyn Massey, Chloe Phillips, Nancy Snyder, Gloria King, and Activities Director Brittany Plyler.
By weight, watermelon is the most-consumed melon in the United States followed by cantaloupe and honeydew, according to the Watermelon Board, representing 1,500 watermelon growers, shippers and importers nationwide. According to the Guinness World Records, the world's heaviest watermelon was grown by Chris Kent of Sevierville, Tennessee in 2013, weighing in at 350 pounds!
Pictured here are Woodridge residents Linda Wortman along with Oliver Moore and Eddie Craig.
"Our residents love watermelon so this was the perfect holiday for us to celebrate," said Activities Director Brittany Plyler. "We ate delicious watermelon and topped the celebration off by making watermelon windsocks. The residents really enjoyed the celebration!"
For more information about Woodridge, please contact Administrator Janis Carroll at (704) 225-0011 or visit us on Facebook.