Never Too Old To Keep Connected (Woodridge)
September 29, 2016 (Monroe, NC) ─ Instead of flipping the pages, Juanita Dooley has any book she wants at the touch of her fingers thanks to her iPad! Some people might be surprised to learn that the 85-year-old is still using a computer to email friends and family!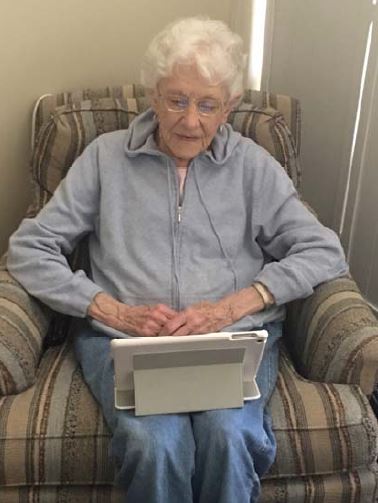 "Keep Connected," the theme behind National Assisted Living Week, September 11-16th, is an opportunity to recognize how technology can enhance the care and overall experience in assisted living communities, as well as a reminder of the importance of face-to-face connections which are formed among assisted living staff members, residents and their families.
Dooley, a resident of Woodridge, a DePaul Senior Living Community, is pictured here on her iPad.
Woodridge resident Gertrude Gorman, 87, has been using a computer for many years for writing letters and emails as well as checking facts on Wikipedia and researching various topics. Gorman said having a cell phone these days could save your life.
"The more you learn, the smarter you are," said Gorman. She encourages other seniors to learn how to use technology!
For more information about Woodridge, please contact Administrator Janis Carroll at (704) 225-0011 or visit us on Facebook.