Taking Steps Toward a Cure (Twelve Oaks)
October 31, 2016 (Mt. Airy, NC) ─ Congratulations to the Mt. Airy community for raising over $32,000 in the Walk to End Alzheimer's held in September at Mount Airy Riverside Park. This year's top fundraiser was Twelve Oaks, a DePaul Senior Living Community in Mt. Airy.
Twelve Oaks donated over $8,500 raised through multiple fundraisers including a bake sale, car wash, yard sale, doughnut sale and bingo tournament. Pictured above are Twelve Oaks Memory Care Director Alicia Lambert, Resident Care Director Johnnie Holt and Administrator Penny Haynes. Also pictured above are Twelve Oaks resident Jennie and her husband James Strickland at the doughnut sale.
"This fundraiser is near and dear to our hearts at Twelve Oaks and we truly want to make a difference in the lives of the seniors we serve as well as those in the community living with Alzheimer's disease and dementia," said Administrator Penny Haynes.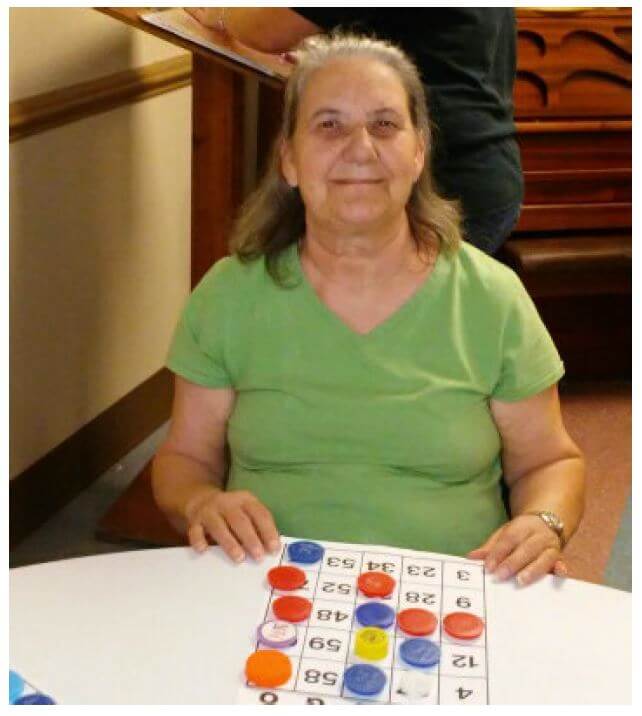 Pictured here is Twelve Oaks resident Nellie Johnson playing bingo in support of the Mt. Airy Alzheimer's Walk to End Alzheimer's.
For more information about Twelve Oaks, please contact Administrator Penny Haynes at (336) 786-1130 or visit us on Facebook. To donate to the Mt. Airy Walk to End Alzheimer's, click here.