Honoring Area Veterans (Southfork)
November 15, 2016  (Winston-Salem, NC) ─ From counting the names of the veterans listed on the wall who were from Winston-Salem to making a wish in the fountain, the Carolina Field of Honor was the perfect location for residents from Southfork, a DePaul Senior Living Community, to celebrate Veterans Day.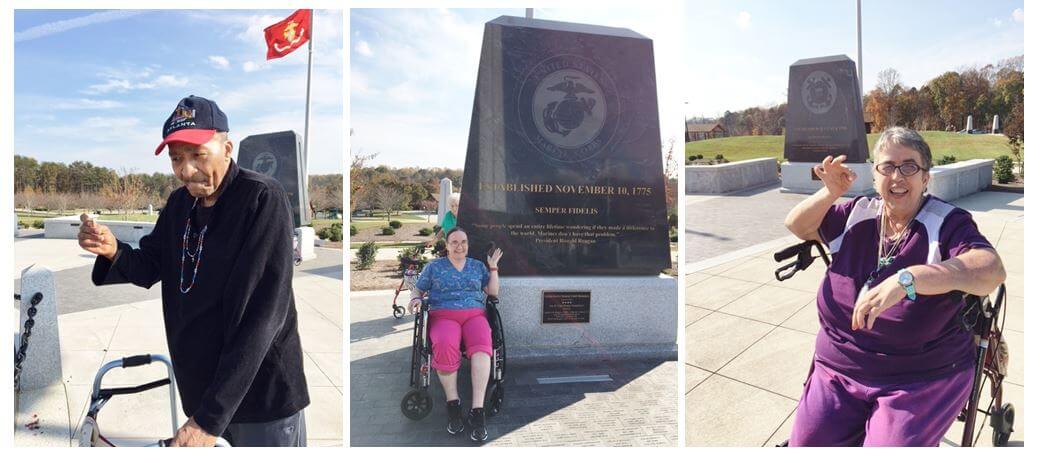 Pictured here, Southfork resident Johnnie Montgomery, a veteran of the Air Force, prepares to toss a penny in the fountains at the Carolina Field of Honor. Also pictured, Southfork resident Brenda Bailey poses by one of the monuments at the park. Her brother served in the Army. Lastly, Southfork resident Judy Sink gets ready to make a wish during a visit to the eight-acre memorial which is located in the 426-acre Triad Park.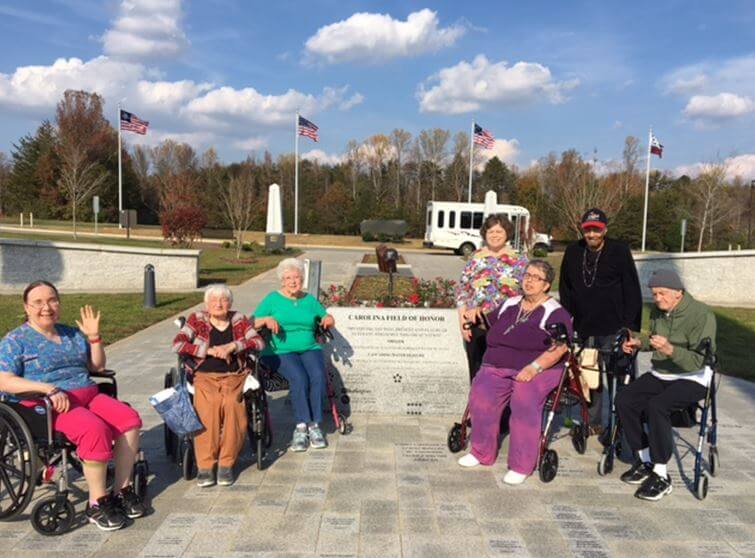 Southfork residents who visited the Carolina Field of Honor include (left to right) Brenda Bailey, Olga Prybylowicz, Libby Carter, Jane Myers, Judy Sink, Johnnie Montgomery and Donald Hauser. Situated in portions of Forsyth and Guilford counties, near Kernersville and Colfax, the memorial honors veterans throughout the Triad area and the state who have served in conflicts from World War II to today in Iraq and Afghanistan. The memorial also includes a piece of a steel beam salvaged from the South Tower of the World Trade Center dedicated to honoring those who lost their lives in New York City, Washington, D.C. and Shanksville, Pennsylvania on September 11, 2001.
For more information about Southfork, please contact Administrator Akwiasdi Revels at (336) 768-8828 or visit us on Facebook.