Senior Olympians Got Game! (Woodcrest Commons)
November 10, 2016 (Henrietta, NY) ─ Residents of Woodcrest Commons, a DePaul Senior Living Community in Henrietta, took home the trophy for the 10th annual DePaul Senior Olympics on Friday, November 4 at DePaul's Recreation Center located at 1931 Buffalo Road.

Pictured above, Woodcrest Commons resident Tom Armstrong after accepting his medal for his first place finish in Wii Bowling; resident Andrea Heath accepts her gold medal in golf from DePaul Recreation Director Dan Charcholla and resident Doug Kurlan prepares for a strike in bowling, for which he took the gold!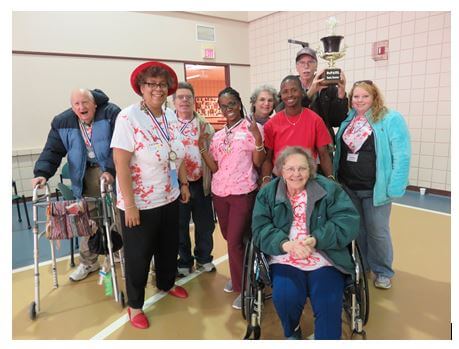 Pictured here with the trophy is Woodcrest Common's team including John Hicks, Andrea Heath, Doug Kurlan, Personal Care Assistant Tawanna Primus, Roseann Bourne, Activities Assistant London Paris Sanders, Tom Armstrong, Activities Director Lindsay Lown and Joan Rangus.
Woodcrest Commons participated in the annual games along with residents from three other DePaul Senior Living Communities − Westwood Commons in North Chili, Glenwell in Cheektowaga, Horizons in Canandaigua – as well as from Rochester General Health System's ElderONE. Events included a spelling bee, shuffleboard, a putting green and bean bag toss, bowling, Wii Bowling and word search. For more information about Woodcrest Commons, please contact Administrator Melissa Brien at (585) 334-1800 or visit us on Facebook.