Wexford House Thanks Girl Scouts
November 17, 2016 (Denver, NC) ─  Girl Scout Troop 1893 has left a mark on the gardens at Wexford House and in the hearts of residents of the DePaul Senior Living Community in Denver. The 11-member troop dedicated 90 hours cleaning up, rebuilding and planting several raised garden beds at Wexford House as part of their efforts to earn their Bronze Award, the highest award available to a Junior Girl Scout.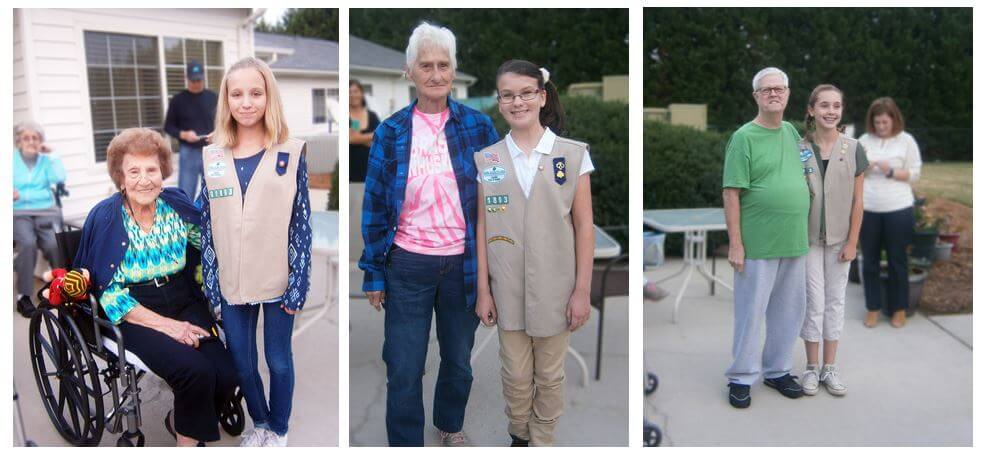 Pictured above is Wexford House resident Frances Genta with Girl Scout Kaitlyn Sheppard; Wexford House resident Jackie Taylor with Girl Scout Chloe Rapp and Wexford House resident Rick Taylor and Girl Scout Katie Cook at the pinning ceremony.
In addition to fundraising for the project, Girl Scout Troop 1893 coordinated several donations of supplies and plants from area businesses including free plants from Mike's Growers Outlet, mulch from Perennial Grove and a discount on supplies from Lowe's. The garden overhaul involved stump removal, fence repair and the addition of a picnic table!
"I want to thank the girls for their hard work and to the girls' parents for supporting them with the project," said Wexford House Activities Director Leslie Spinner. "I know the girls formed some friendships with the residents and they both can't wait to see each other again and maybe enjoy the picnic table together."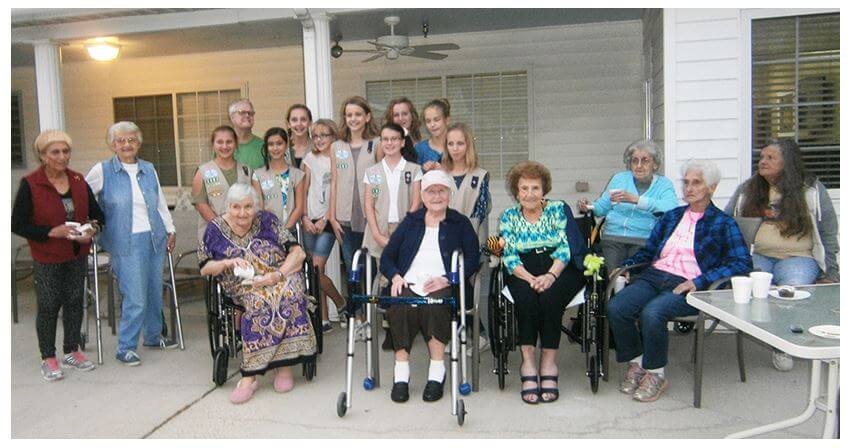 Girl Scouts and residents celebrated the culmination of the garden project with a pinning ceremony. Pictured here are troop members Jessica Lojek, Laura Zacharauskas, Katie Cook, Kyla Parks, Maddie Wootton, Chloe Rapp, Paige Bias, Macy Parks and Kaitlyn Sheppard along with several residents from Wexford House during the pinning ceremony.
"I've been with a lot of these girls since second grade," said Troop Leader Anne Bias. "This is our fifth year together. I've never seen these girls work so hard and show so much motivation and teamwork. They discovered skills they didn't realize they didn't realize they had!"
For more information about Wexford House, please contact Administrator Dedra Shumaker at (704) 489-2633 or visit us on Facebook.