Fire Safety Sparks Fun! (Woodridge)
December 19, 2016 (Monroe, NC) ─ Fire safety is a serious topic, but the Monroe Fire Department managed to make it fun for residents at Woodridge, a DePaul Senior Living Community in Monroe.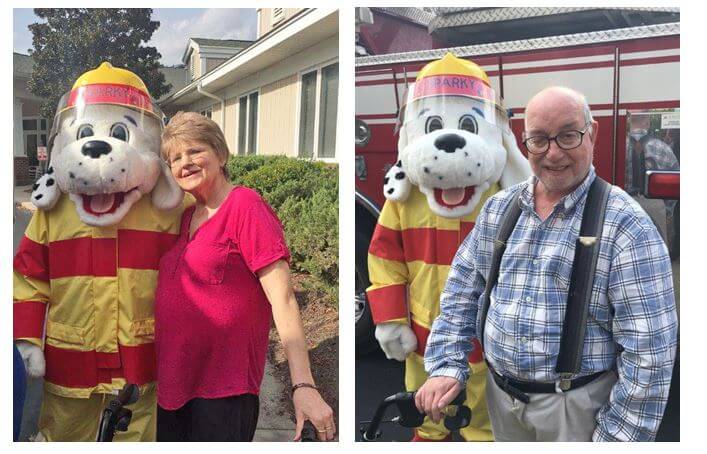 Pictured above with the Monroe Fire Department's mascot Sparky are Woodridge residents Libby Hess and Eddie Craig.
Members of the area fire department provided tours of their fire truck, played a trivia game with residents highlighting information about basic fire safety, and invited them to take photos with Sparky!
Pictured above are Woodridge residents Ed Pucek and Yvonne Hood.
"We really appreciated the Monroe Fire Department taking the time to come out to speak with the residents about fire safety," said Activities Director Brittany Plyler. "They shared some great information with the residents and answered any questions that they had. It makes us all more aware and grateful to know that we have such an awesome fire department that answers calls so efficiently when needed."
The Monroe Fire Department offers several types of fire education classes such as fire prevention, cooking safety and fall prevention for the elderly, according to Monroe Fire Department Administrative Assistant Sheila Couick. Fire education presentations can be scheduled by calling (704) 282-4726 or by emailing scouick@monroenc.org.
For more information about Woodridge, please contact Administrator Janis Carroll at (704) 225-0011 or visit us on Facebook.