Fresh Options for Home Sweet Home (The Villas at Rolling Ridge)
November 1, 2017 (Newton Grove, NC) ─ Jean Swinson moved into her own apartment for the first time in her life in her mid-70s. Up until then, she had always shared her home – with her husband and children, and later, with her grandchildren. A little over a year ago, she moved into one of eight one-bedroom, single-level apartments at the Villas at Rolling Ridge, a DePaul Independent Senior Living Apartment Community, on Mount Olive Drive in Newton Grove.
"My family loves my new life," she said. "I have peers my own age and I have a new life here for myself."
Construction has begun on 12 new spacious, one-bedroom, single-level, pet-friendly apartments which include fully-equipped kitchens and 24-hour emergency maintenance. Apartments include individually-controlled heating and air conditioning, laundry hook-up and on-site trash removal. Conveniently located near restaurants, grocery stores and places of worship, the Villas at Rolling Ridge feature wall-to-wall carpeting, ceramic tile, and ample closet space, as well as an inviting porch and patio.
Swinson loves being close to her mother who lives on the same campus, right next door at Rolling Ridge, a DePaul Senior Living Community, and is looking forward to welcoming new residents to the Villas.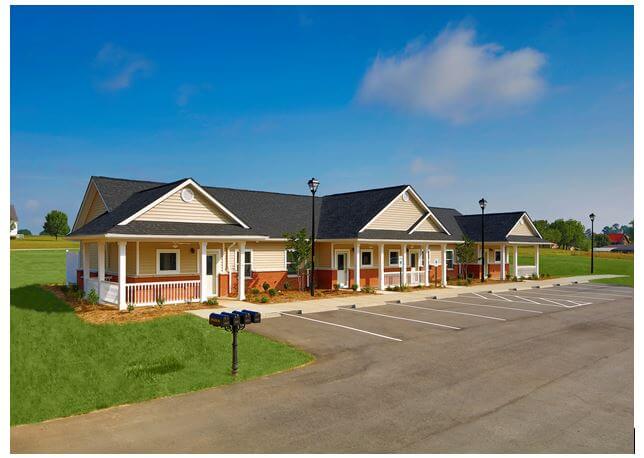 One of Swinson's neighbors is Nonie Roberson. After her husband died in 2004, she moved from a large home in Virginia Beach to a small apartment in Dunn to be closer to her only granddaughter. When she toured the Villas at Rolling Ridge, she said it was just what she was looking for – from the layout to the fact that she would not have to worry about maintenance and yard work.
"I felt at peace the first night I slept in my apartment," Roberson said. "I felt like I was truly home again for the first time since my husband died."
Applications are now being accepted for the Villas at Rolling Ridge, a DePaul Independent Senior Apartment Community, located at 700 Mount Olive Drive Newton Grove. Call for a tour today and to discuss flexible lease options. For more information about the Villas at Rolling Ridge, please contact Administrator Laura Anderson at (919) 894-3001 or at landerson@depaul.org or visit https://www.depaul.org/locations/the-villas-at-rolling-ridge/.