Three Cheers for Volunteers at Wexford House
April 18, 2019 (Denver, NC) ─Residents at Wexford House have plenty of reasons to count their blessings during National Volunteer Appreciation Month in April. From local parishes and entertainers to arts and crafts and health education, the DePaul Senior Living Community in Denver has many dedicated volunteers!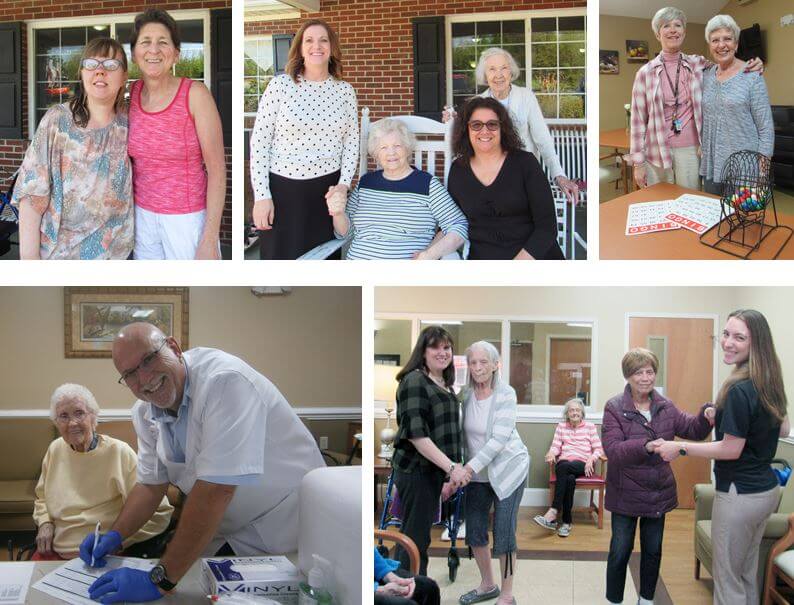 Pictured clockwise above are volunteers Charlie Vanderpoll and Renee Bauer; Wexford House residents Betty Griffin and Mary Gallman enjoying porch time with volunteers Nancy Zdyb and Anna Endsley; volunteers Grace Schilling and Judy Brockman; Wexford House residents Margaret Hale and Susie Morlock dancing with Wexford House Activities Director Leslie Spinner and nursing student/volunteer Chere Trump, and lastly, Wexford House resident Betty Sigmon talks with area pharmacist Karl Valentine.
Volunteers find many reasons for sharing their time and talents with seniors at Wexford House! Karl Valentine, a pharmacist at the local Walgreens, comes in once a month to talk about healthy living. Community members Grace Schilling and Judy Brockman call bingo every Tuesday, and volunteers Pat Young and Donna Forrest have been coming in on a weekly basis for manicures and crafts for the past year.
"We both feel like we're really making a difference," said Young.
Community members Anna Endsley, Nancy Zdyb, Charlie Vanderpoll and Renee Bauer come regularly to share comradery with residents. Sue Schoenecker has been bringing her standard poodle Bogie to Wexford House for about four years.
Many volunteers come from area churches to share their faith with residents. A member of the Boger City Baptist Church, Bob Wright comes every Tuesday to play the Sunday service for residents. Parishioners from Terrell Baptist Church visit Wexford House once a month to sing and members of Community Faith Church come twice a month. Southlake Christian Academy students drop into Wexford House about every other month to read stories, play bingo, sing songs and engage with seniors.
"We've come to be like family," teacher Velvet Calhoun said of the intergenerational partnership.
Some volunteers come to share the gift of music! Jim Harrington performs for Wexford House's monthly birthday parties, John Sullivan plays guitar for residents about once a month and the Parker Family Singers, a musical group consisting of parishioners from various area Baptist Churches, visit Wexford House once a month.
"All the staff at Wexford House are grateful for all of the things every resident volunteer does for us," said Activities Director Leslie Spinner. "It gives us a hand and it gives the residents a purpose. Feeling appreciated and useful is a huge factor in an individual's quality of life. "
For more information about Wexford House, please contact Administrator Chris Brown at (704) 489-2633, at cbrown@depaul.org or visit us on Facebook.