Planting May Flowers (Wexford House)
May 30, 2019 (Denver, NC) ─ Green thumbs have been hard at work bringing the smells and sights of summer to Wexford House, a DePaul Senior Living Community in Denver. Residents recently planted flowers with the support of volunteers Marty and Nancy Ingram and Neil and Iris Young made a donation which Pat Young and Donna Forrest used to purchase the soil, pots and flowers for the gardening project.
Pictured above is volunteer Donna Forrest with Wexford House resident Gloria Barber as well as resident Roger Bruny. The finished flower pots are adding color to the grounds of the senior living community where residents will help water, weed and care for the plants.
"Gardening is so good for the residents," said Activities Director Leslie Spinner. "It gives them responsibilities like watering and pruning, and it feels good when people compliment on how pretty the flowers look."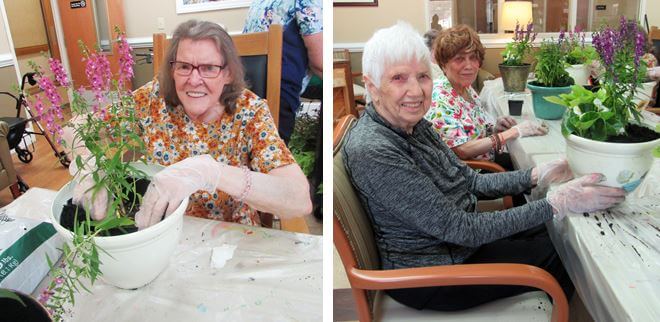 Pictured above are is Wexford House residents Betty Bryant, Edna Davidson and Susie Morlock.
For more information about Wexford House, please contact Regional Administrator Melissa Silverman-Connolly at (704) 489-2633, at msconnolly@depaul.org or visit us on Facebook.