Giving Back, One Stitch at a Time (Dayspring of Wallace)
August 13, 2019 (Wallace, NC) ─ Love is crocheting a hat for a newborn you may never meet. Residents and staff at Dayspring of Wallace did just that, multiplied by 200! The DePaul Senior Living Community in Wallace has begun making and donating newborn caps to area hospitals.
Pictured above, Dayspring of Wallace resident Lucille Rooks, Velma Jenkins and Linda Porter work on crocheting infant hats.
The crochet club at Dayspring of Wallace was looking for a way to give back. Activities Director Maria Iadonisi recalled having done a similar donation at a prior senior living community. After running the idea by residents, it was decided. Iadonisi dug into her supplies at home and found baby yarn.
The crochet club meets once a week and the rest of the work is done by staff and residents at home. Those residents who were not able to knit or crochet assisted by personalizing each hat with a special tag and heart button or handstitched heart.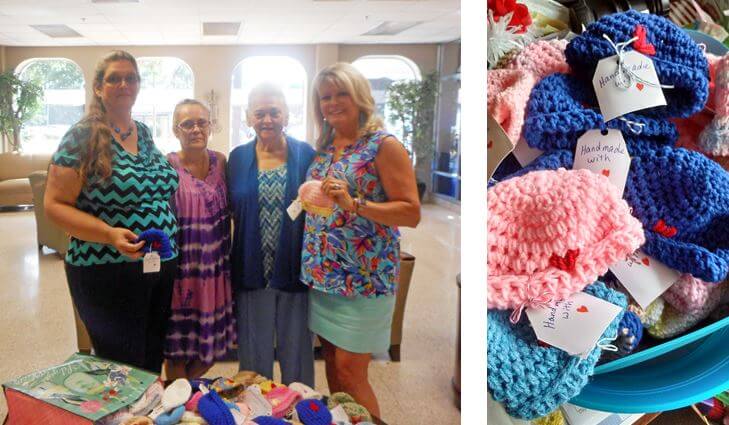 Pictured above, Dayspring of Wallace Activity Director Maria Iadonisi, Med Tech Beatrix Mcintire and resident Linda Porter deliver 100 infant caps to Judy Naylor, Head of Volunteer Services at Sampson Regional Hospital.
According to Naylor, over 600 babies are born at Sampson Regional Medical Center each year. While each infant receives a hat, not all are homemade with love like those donated by Dayspring of Wallace.
"Many new mothers are overwhelmed that someone would take the time to knit a cap for a baby they have never seen," said Naylor. "We like to share that each hat may take more than eight hours to complete. Most of today's mothers are of a generation where knitting is a lost art, therefore these hats are a special keepsake."
Dayspring of Wallace plans to donate more hats to Sampson Regional, Vidant Duplin and New Hanover Memorial. If you have any baby yarn or heart buttons to donate to the cause, contact Maria Iadonisi at Dayspring of Wallace at miadonisi@depaul.org or by calling (910) 285-9050.
For more information about Dayspring of Wallace, please contact Administrator Angela Eckard at (910) 285-9050, at aeckard@depaul.org or visit us on Facebook.