Putting the Heart in Art (Cambridge House)
September 9, 2019 (Hildebran, NC) ─ Residents and staff at Cambridge House, a DePaul Senior Living Community in Hildebran, recently channeled a "spark of creativity" to create a family tree out of their handprints in celebration of National Assisted Living Week, celebrated September 8-14.
Pictured above on the left, Loretta Sutherland gets assistance from Activities Director Gabby Houston applying paint to her hand while Lewis Weston leaves his mark on the project. The artwork is on display at Cambridge House, emblazed with a heartwarming saying "We hold their hands. They hold our hearts."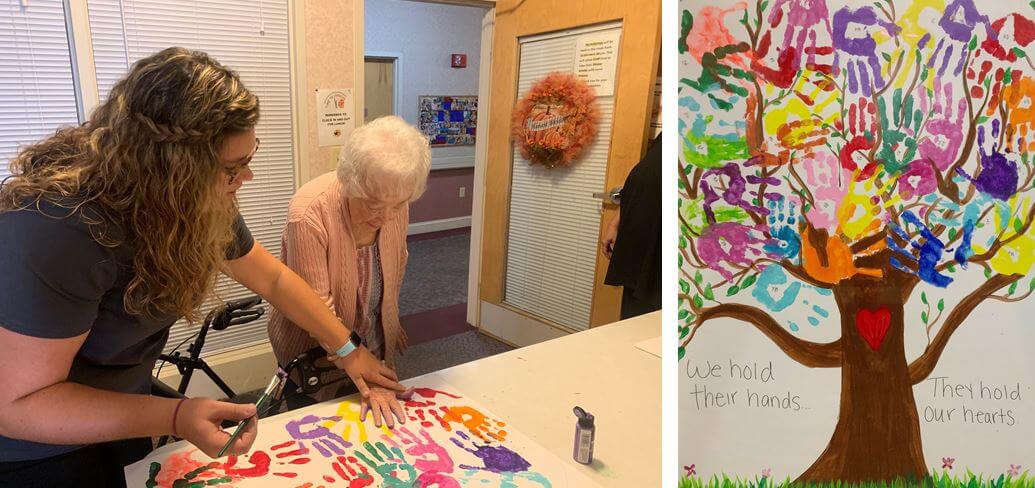 Pictured above, Houston assists resident Shirley Lingle in adding her handprint to the tree.
"I hear them going down the halls saying 'Look, there's my hand!' and they start to laugh," said Houston. "It's a great feeling knowing I can be part of bringing laughter and joy to their everyday lives."
For more information about Cambridge House, please contact Administrator Amber Minton at (828) 325-4980, at aminton@depaul.org or visit us on Facebook.