September 4, 2019 (Fairmont, NC) ─ Elvis may have died in 1977, but his spirit is bringing joy to all ages thanks to regional impersonator George Hudson. 'Elvis' paid a visit to Greenbrier, a DePaul Senior Living Community in Fairmont, earlier in August.

Local Elvis impersonator George Hudson is pictured here with Greenbrier residents Deloris Pighet and Lincie Ivey. Hudson performed all the standard hits in the dining room at Greenbrier which was decorated in black and gold balloons.
Hudson has been performing as Elvis since 2011 at area restaurants and senior living communities. He's entered the Ultimate Elvis Tribute Contest for several years, though he's never won.
"I just enjoy doing it, bringing back the memory of Elvis," he said. "There are still a lot of people who love to hear Elvis music. When they get to see an impersonator, they're getting to see the next best thing!"
Hudson said Elvis was a down-home person that many of his fans could relate to.
"He was versatile in his music style," said Hudson. "He walked on stage with a band behind him. He didn't have fancy lights or smoke. The audience could understand what he was singing about. He was a down-home person."
"George is a blessing," said Greenbrier Administrator Sandi Griswold. "We invited him to come back as the residents loved him so much!"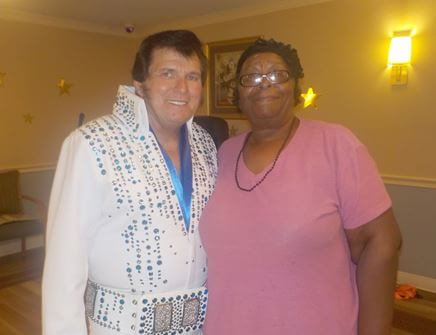 Hudson is pictured here with Greenbrier resident Clara Gaddy.
For more information about Greenbrier, please contact Interim Administrator Sandi Griswold at (910) 628-9021 or at sgriswold@depaul.org.