Happy Tails at Wexford House
November 15, 2019 (Denver, NC) ─  A tired dog is a happy dog! That was Julianna Pastore's thinking when she volunteered for pet therapy at Wexford House. She and her dog Kessel, a three-year-old Bernese Mountain Dog, have quickly become popular guests at the DePaul Senior Living Community in Denver.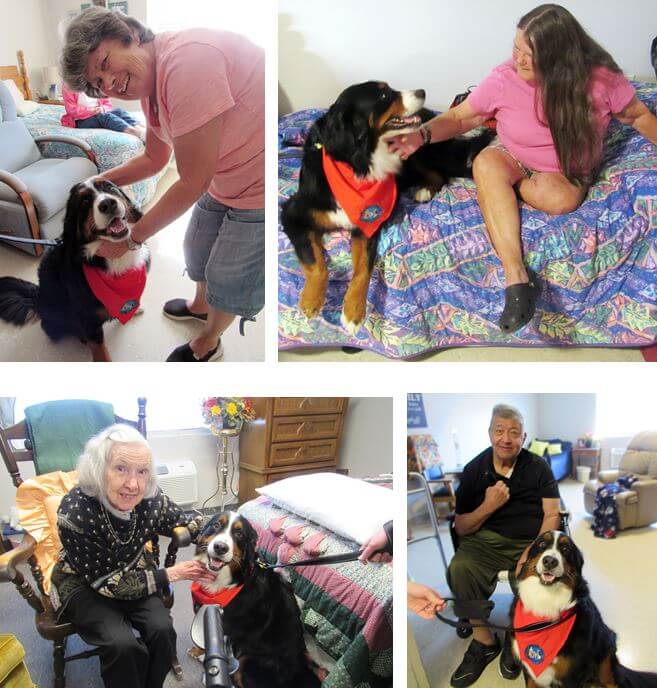 Kessel is pictured clockwise above with Wexford House residents Alda Bean, Wanda Wells, Tony Malagese and Mary Gallman.
"She's got such a great personality and she gets so excited to meet new people," Pastore said about Kessel. "I thought volunteering would be a good thing for her and for me."
Wexford House is Kessel's first pet therapy gig. Pastore and Kessell were shown the ropes by Sue Schoenecker who also brings her dog Bogie to Wexford House. When she's not volunteering at Wexford House, Kessel can be found sleeping under Pastore's desk at Gibson Tax Service, her family's business.
"She's not the kind of dog that has to wait at home eight hours," said Pastore.
Volunteering has been very fulfilling for both Pastore and Kessel.
"It's clear that everyone is happy a dog is coming in to sit with them for a little while and Kessel is just excited about attention from anyone," she said.
For more information about Wexford House, please contact Administrator Amy Smith at (704) 489-2633, at asmith2@depaul.org or visit us on Facebook.