On Top of the World (Cambridge House)
December 11, 2019 (Hildebran, NC) ─ There's no better place to view the fall foliage than at Vista at Bill's Mountain. Residents from Cambridge House, a DePaul Senior Living Community in Hildebran enjoyed 360-degree views of Lake Lure and the Blue Ridge Mountains at the clubhouse at the 800-acre mountain community.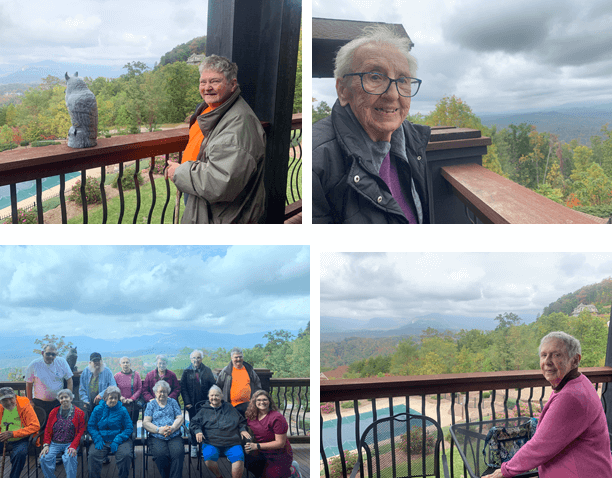 Pictured above clockwise are Cambridge House residents Daniel Barnes, Juanita Jones, Nancy Williams, and (top row, left to right) David Turner, Michael Long, Nancy Williams, Lillie Osborne, Juanita Jones, Daniel Barnes, (bottom row, left to right) Thomas Hilton, Bonnie Autrey, Loretta Sutherland, Christine Nix and Judy Pruitt and Activities Director Gabby Houston.
Houston's father Charles Shaver who sells homes and at Bill's Mountain, gave residents a tour, explaining the history and fun facts about the area, and they enjoyed a lunch of chicken and dumplings, green beans and banana pudding and peach cobbler from the "top of the world."
"This is an amazing community and I am so glad our residents were able to enjoy the breathtaking view of the mountains," said Houston.
For more information about Cambridge House, please contact Administrator Amber Minton at (828) 325-4980, at aminton@depaul.org or visit us on Facebook.