100 Years and Counting! (Pee Dee Gardens)
January 15, 2019 (Florence, SC) ─ Education and an unwavering work ethic have been the secret to a long and happy life for centenarian Elizabeth Rogers Simonds. A resident at Pee Dee Gardens, a DePaul Senior Living Community in Florence, Elizabeth was born on January 9, 1920 in Timmonsville, South Carolina, the fourth child to Sam and Lucy Allen Rogers, a family of sharecroppers.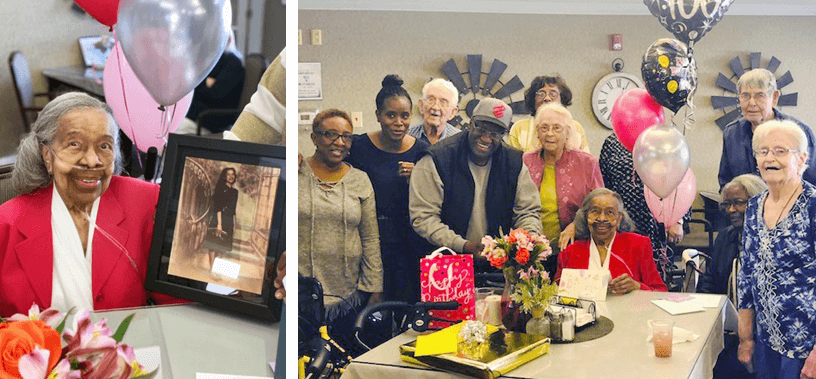 "Farming is alright if that's what you want to do, but it is not what I'm going to do for the rest of my life," she said, reflecting on the mindset which led her off the farm and into the classroom.
Elizabeth left the farm to seek employment in New York City about four years after graduating from high school. While working as a live-in domestic helper, one of Elizabeth's employers encouraged her to enroll in clerical night classes, which she says is one of the best decisions she ever made.
Over the years, Elizabeth worked clerical jobs in a doctor's office, Datamation Services and lastly, Montefiore Hospital and Medical Center located in the Bronx where Elizabeth was recognized for her loyal and devoted services when she retired as a keypunch operator and coding clerk in 1981.
Elizabeth married her late-husband William "Bill" Simonds in 1951. She was an active member of Epworth United Methodist Church until relocating to Florida and then back to Timmonsville, SC in 2014 with her brother and sister who have since passed away.  A resident of Pee Dee Gardens since November 2017, Elizabeth enjoys reading medical articles and watching CNN. She is pictured above at her birthday celebration surrounded by friends and family.
For more information about Pee Dee Gardens, please contact Administrator Melody Adams at (843) 667-6699, at madams2@depaul.org or visit us on Facebook.