Smiles for Miles at Cambridge House
June 4, 2020 (Hildebran, NC) ─ Though current circumstances call for the need for social distancing, the fun must go on at Cambridge House, a DePaul Senior Living Community in Hildebran. Residents are staying engaged and entertained with everything from arts and crafts projects to spending time with the community's therapy cat Sunny.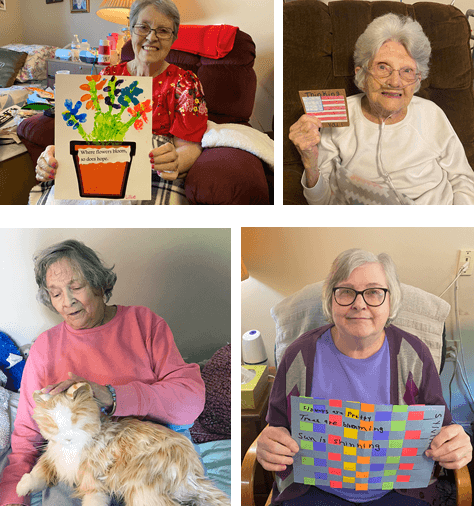 Pictured clockwise above are residents Lillie Osborne, Lucille Sigmon, Sylvia Jones and Faye Lambeth. Activities Director Gabriana Houston led residents in one-on-one arts and crafts in their rooms including the handprint flowerpot painting displayed by Lillie and the paper weaving craft being shown off by Sylvia.
"These crafts brough so much joy and happiness," said Gabriana. "It's a ray of sunshine with all of this going on in the world."
Cambridge House residents were the recipients of some thoughtful, homemade greeting cards such as the one held by Lucille which were made by members of The Rising Church in Morganton. Faye is pictured with Sunny the therapy cat, a Hasbro Joy For All Companion Pet with realistic fur and cat-like sounds with sensors that respond to petting and hugs.
"We are using this as a coping tool and to bring back memories for them," said Gabriana. "This cat has really brightened up their days and will continue to use this every day!"
For more information about Cambridge House, please contact Administrator Amber Minton at (828) 325-4980, at aminton@depaul.org or visit us on Facebook.