Channeling Their Inner Picasso (Woodcrest Commons)
July 15, 2020 (Henrietta, NY) ─ When it comes to arts and crafts, residents at Woodcrest Commons, a DePaul Senior Living Community in Henrietta, are taking their handiwork to the next level! Their art is adding a decorative flair to the community and allowing residents to channel their inner Picasso.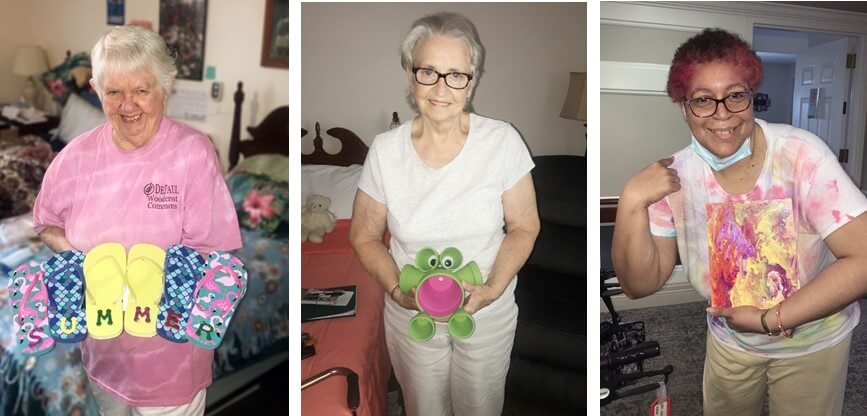 Pictured above, Woodcrest Commons resident Shirley Merton shows off her flip-flop summer door hanging; resident Kathy Walrath holds a flowerpot frog craft project, and Andrea Heath displays an acrylic pour painting she made.
Also pictured are residents Ann Gulick with an acrylic pour painting and, Blanche Herman and Lisa Micsak with hand painted wooden wall plaques.
During this time of social distancing, Activities Director Ariel Guarino said, crafts are an important outlet for residents to express their creativity,
"The paint pouring was especially fun for residents because they got to 'make a mess' that turned into a beautiful piece of art that they were extremely proud of," she said.
For more information about Woodcrest Commons, please contact Administrator Melissa Brien at (585) 334-1800, at mbrien@depaul.org or visit us on Facebook.