Soaking Up Summer Fun at Pee Dee Gardens
July 21, 2021 (Florence, SC) ─Warm weather is here and residents at Pee Dee Gardens are finding plenty of ways to relish summer! From creative crafts and contests to time on the porch or in the garden, it's been a flurry of fun at the DePaul Senior Living Community in Florence!
Pictured clockwise above, Ruth Blue creates a sunflower craft using beans, Christine Cash uses tissue paper to make a flamingo craft, Lou Hanna celebrates his spelling bee win and Joanne Gold takes a stroll through the gardens at Pee Dee Gardens.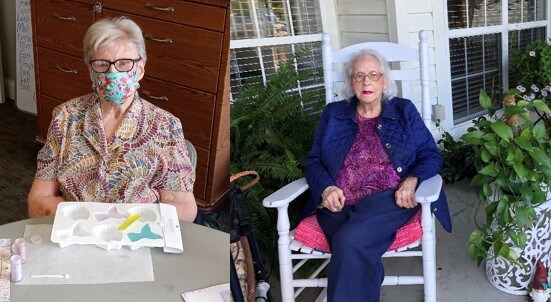 Pictured above, Shirley Pearson makes soap while Ruth Fagan enjoys some rest and relaxation on the porch.
For more information about Pee Dee Gardens, please contact Marketing Director Melody Adams at (843) 758-3020, at madams2@depaul.org or visit us on Facebook.