Dan and Barb Troy – A Lesson in Commitment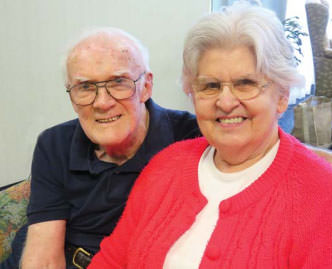 For Dan and Barb Troy, who met on a blind date at the state fair, the recipe for a 55-year marriage revolves around patience, understanding, faith, and believing in people. Both natives of the Finger Lakes region of New York, this special couple has certainly endured through thick and thin.
Residents of Horizons, a DePaul Senior Living Community in Canandaigua, New York, family members had researched assisted living options for the Troys following Dan's diagnosis of Hodgkin's lymphoma. An oncologist had given Dan a very grim prognosis and recommended hospice. So they sold their home of 40 plus years in Avoca, New York and moved into Horizons three years ago on Dan's birthday. At that time, Dan had lost 40 pounds and was using a walker. "The support here made it much easier to focus on recovery," said Dan, 84.
Fast forward to today. Dan, a graduate of SUNY Geneseo and Elmira College, and a former school teacher and house painter on the side, is now in remission. A United States Air Force veteran who served during the Korean War, he is now walker-free and actually takes daily laps around the building to stay fi t. He plants flowers and vegetables in Horizons' raised-bed gardens, drives to visit Horizons' residents who are in the hospital or in rehab, and participates in the American Cancer Society's Relay for Life every June. Dan also sells the crafts he makes to benefit the resident activity fund.
Barb, 77, a former home daycare operator and avid reader of "anything and everything," now uses a walker and is appreciative of the supportive services at Horizons. She still exercises three times a week and is happy to call Horizons home. "Everything here is just super," she said with a smile. "The food is delicious. There's a lot of variety. The staff are very bonded to the residents. I liked it immediately. What's not to like? Everything is done for you!"
Together they raised two daughters and a son, all of whom have names beginning with "K". If we had a fourth, we'd have named it "Kwits," she quipped. The family has grown to include seven grandchildren and two great-grandchildren.
Family is clearly important to the Troys. Dan lost his mother at the age of four and grew up in two "wonderful" foster homes. He was able to maintain contact with his biological siblings and their descendants as well as those from his foster families. When he was diagnosed, Barb's sister, a physical therapist, came up from Florida to help, serving in Dan's eyes as the turning point in his condition with her therapeutic suggestions.
Faith also played a role in his recovery. "There were a lot of people praying," he said. Longtime active members of the First Methodist Church in Avoca, the Troys still see the "good folks" from Avoca and now attend a Sunday worship service at Horizons while faith-based books line their shelves.
The Troys exemplify the adage that marriage is not just about finding the right mate but being the right mate.
"You have to work at it, but love endures," Barb said.
---
Learn more about Horizons and DePaul senior living communities.