Changing Perceptions with Mental Health First Aid
By: Amy Cavalier, Communications/Development Coordinator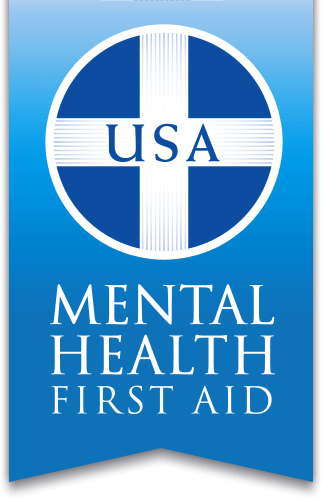 Just as Cardiopulmonary Resuscitation (CPR) helps even those without clinical training assist an individual having a heart attack, Mental Health First Aid prepares participants to interact with a person experiencing a mental health crisis.
Mental Health First Aid is an evidence-based public education program that introduces participants to risk factors and warning signs of mental health problems, builds understanding of their impact and reviews appropriate support. The eight-hour course, which has been offered at DePaul since August 2016, uses role-playing and simulations to demonstrate how to offer initial help in a mental health crisis and connect people to the appropriate professional, peer, social and self-help care.
Since its introduction in the United States in 2008, more than one million people from all 50 states have taken this course. A total of 115 DePaul employees have completed the course to date. It is taught by Intake Director Yvonne Adams and Parkside Program Director Jennifer Robinson.
"This important educational effort goes a lot further than emergency intervention; it really helps people understand the shroud of fear and misjudgment facing individuals and families who experience mental illness and addiction," said Director of Staff Development and Training Nancy McGovern.
The program is proven to improve people's mental health, increase the understanding of mental health issues and treatments, connect more people with care and reduce the stigma associated with mental illness. Upon completion, participants better understand the impact mental health and addictions have on a person, their family and communities.
Service Coordinator at DePaul's Cornerstone Community Residence-Single Room Occupancy Program, Stephanie Weaver, who took the course, said she thinks it should be required for anyone working in human services.
"We're often so focused on knowing what to do when people are in physical distress," she said. "I have found that I encounter more people in emotional distress than in physical distress, so First Aid is great, but to tell you the truth, in the two years that I've done it, I've only had to use it on my son, but Mental Health First Aid, I can't count how many times I've had to use it since March."
DePaul Activities Coordinator Austin Pettigrew said the training helped him more clearly put himself in the shoes of someone with a mental illness.
"We talked a lot about words not to use, gestures that dehumanize the person," he said. "I guess I never fully considered how the dynamics of something seemingly small could really hurt someone who is struggling."
Mental Health First Aid teaches participants a five-step action plan known as ALGEE which can be applied in a variety of situations, including when someone is experiencing panic attacks, suicidal thoughts or behaviors, non-suicidal self-injury, acute psychosis (e.g. hallucination or delusions), overdose or withdrawal from alcohol or drug use or reaction to a traumatic event. The training helps participants identify common risk factors and warning signs of specific illnesses like anxiety, depression, substance use, bipolar disorder, eating disorders and schizophrenia, as well as a list of community health care providers and national resources, support groups and online tools for mental health and addictions treatment and support.
Pettigrew said Mental Health First Aid has given him concrete steps to use when assisting clients and friends during mental health crises.
"In each situation, afterward the person told me how much they appreciated me taking the time to listen to them and that they felt much better and were going to call their therapist," he said. "It's nice to be able to know how to initially help but then to be able to steer them in that direction so they can talk with someone who is trained to know how to help."
DePaul's Digital Content Coordinator Justine Smith said the training was thought-provoking, informative and practical. Mental Health First Aid reinforced the importance of person-first language and has served as a reminder to emphasize the person rather than his/her diagnosis.
"We discussed the pervasiveness of inaccurate phrases such as 'I'm so OCD' or 'the weather is so bipolar today'," Smith said. "Jargon like this is used casually and indiscriminately but unfortunately only adds to the stigma surrounding mental illness."
Some of the statistics shared during the training were quite surprising, Smith said, including the fact that individuals living with a psychiatric disorder are more likely to be victims of crimes rather than to commit them.
"Since one in five adults experience a mental illness in a given year, chances are we all know someone who has a mental illness," Smith adds. "The skills taught in Mental Health First Aid are extremely practical and could be utilized to help any person, not just someone served by DePaul. Everyone is dealing with something and we all face challenges, so it's imperative to be kind and listen non-judgmentally."