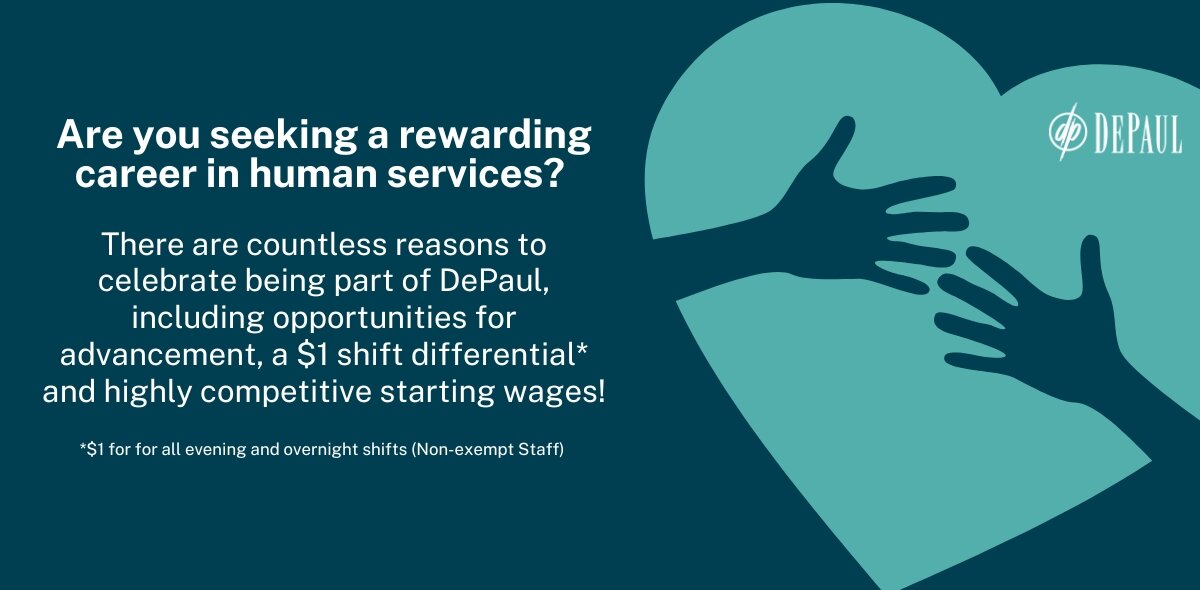 Who we are…
Working at DePaul is more than a job – it's a passion! DePaul's nearly 1,000 employees are part of a dedicated team who truly care and take pride in everything we do. For over 60 years, we have been committed to providing excellent care and services in supportive work environments. There are countless reasons to celebrate being part of DePaul, including:
Opportunities for advancement

$1 shift differential for all evening and overnight shifts (Non-exempt Staff)

Highly competitive starting wages

Free parking and more
If you strive to make a difference and want to devote your time and energy to something that truly matters, become part of our culture of caring!
DePaul offers a wide range of employment opportunities in the areas of senior living, mental health residential and support services; affordable housing, vocational programming and addiction prevention and support.
---
Learn more about how DePaul's culture of caring has impacted our dedicated team and those we serve!
Why You'll Love it Here:
For over 60 years, DePaul's mission has been to assist individuals in achieving their optimum level of independence and success in the environment of their choice, while remaining sensitive to assessed community needs and available resources. DePaul is committed to providing excellent care and services in supportive work environments.
Each year we put our mission into action:
A Career at DePaul – It's a Passion!
"On a day-to-day basis, there is a sense that we are working toward a grand, achievable vision and I proudly see DePaul making strides toward it every day and making it a reality."
"I have been at DePaul for 22 years. My time here has allowed me to care for people who are in need of someone to advocate for them. It has been fulfilling to assist people who are challenged every day by coping with a difficult disability that can be very debilitating. I find it personally rewarding to work as a team to help others who are in need of assistance in achieving their goals and increasing their quality of life."
"I am proud to work at DePaul for the genuine care, compassion and commitment for the residents we serve AND the employees that work here. I truly love what I do and what DePaul stands for."
DePaul Properties, Inc. creates and operates attractive, affordable housing solutions in urban, suburban and rural settings within environments that promote respectful community relationships. DePaul has sites located in Albany, Erie, Genesee, Livingston, Monroe, Niagara, Oneida, Ontario, Schenectady and Wyoming counties.  Examples of affordable housing positions include:

Compliance Specialist
Housing Specialist
Maintenance Specialist
Property Manager
Supportive Housing Coordinator

And more!

DePaul provides a continuum of mental health residential services in licensed and non-licensed settings with varying degrees of independence and support. They include apartment treatment programs, community residence-single room occupancy programs, licensed congregate treatment sites, single-site supportive housing, supportive scattered-site housing and transitional housing. DePaul operates programs in Monroe, Erie, Genesee, Livingston, Niagara, Ontario, Orleans, Schenectady and Wyoming counties. Examples of mental health residential care positions include:

Community Living Assistant
Dietary Director
Dietary Aide
Maintenance Specialist
Medication Coordinator
Program Director
Residential Assistant
Residential Counselor
Residential Service Coordinator

And more!

The National Council on Alcoholism and Drug Dependence – Rochester Area (NCADD-RA) provides research-based and evidence-based substance use disorder and problem gambling prevention services to a diverse population through education, support, resources, advocacy and referral.

Staff work to positively influence the social norms which perpetuate the use and abuse of alcohol and other drugs, and problem gambling.

NCADD-RA staff provide community education and awareness presentations on a variety of addiction-related topics tailored to requesting school or community groups. NCADD-RA also provides a wide array of training opportunities for professionals in the addictions, education, and health and human services community.

DePaul Senior Living Communities provide the comforts of home, a commitment to enhancing quality of life, and personal care services in a supportive environment that promotes independence. We take pride in adding a personal touch to all that we do. Our dedicated team of committed staff works closely with residents and family members to provide an exceptional living experience. Our Senior Living Communities are located in New York. Examples of positions in senior living include:

Activities Director
Administrator
Cook
Dietary Aide
Dietary Director
Director of Clinical Services
Home Health Aide
Housekeeper
Maintenance Director
Medication Technician
Personal Care Aide/Personal Care Assistant
Resident Care Director
Transportation Aide

And more!

DePaul's Supported Housing Program secures permanent housing for adults with a psychiatric disability. Staff provide resources for consumers with limited incomes to successfully find housing that meets their needs. Individuals receive a furnished apartment, linkages to necessary community supports, and advocacy. This level of care is provided in Monroe, Erie, Genesee, Niagara, Wyoming, and Orleans counties. Examples of positions available in supported housing:

Supported Housing Coordinator
Supported Housing Specialist

And more!

DePaul offers support programs to assist with needed services including:

WorkGuide offers a wide range of services to assist consumers (ages 18 and older) in obtaining long-term employment in their chosen field. Programs are offered in English, Spanish and American Sign Language (ASL). Examples of positions in the WorkGuide program include:

Vocational Assessment Coordinator
Vocational Counselor
Vocational Rehab Evaluator
Contact Human Resources
Reach out to Human Resources directly by clicking on the button below and filling out our contact form.
You Can Apply In Person or Online
In Person
Apply Monday-Friday, 8:30 a.m. – 4:30 p.m. at the following DePaul locations:
DePaul Rochester Administration
1931 Buffalo Rd.
Rochester, New York 14624
DePaul Buffalo Administration
2475 George Urban Boulevard
Suite 201
Depew, New York 14043
Online