Bean Bags and Barbecue at the Trolley Station Apartments
August 9, 2021 (Canandaigua, NY) ─ Competition and camaraderie were on display at the Trolley Station Apartments in Canandaigua, New York during the first-ever Bean Bags and Barbecue competition to celebrate the community's five-year anniversary. Following a cookout in the courtyard, first responders from across the area were paired up with residents of the Trolley Station Apartments for the cornhole competition.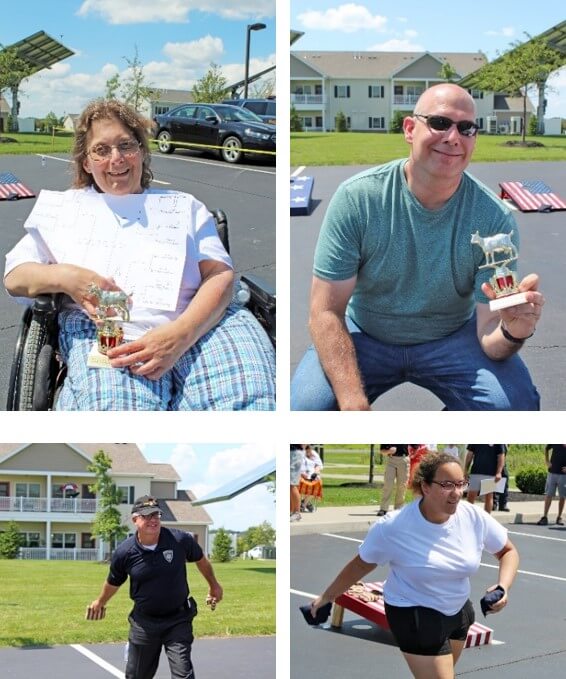 Pictured top row, resident Jen Sterner and Lt. Mike Devries of the New York State Police were declared the winners in the first-ever Trolley Station Apartments Bean Bags and Barbecue event. Pictured bottom row, Chief of Corrections Officer Chris Smith from Ontario County Jail and Christina Luongo of the Trolley Station Apartments compete in cornhole.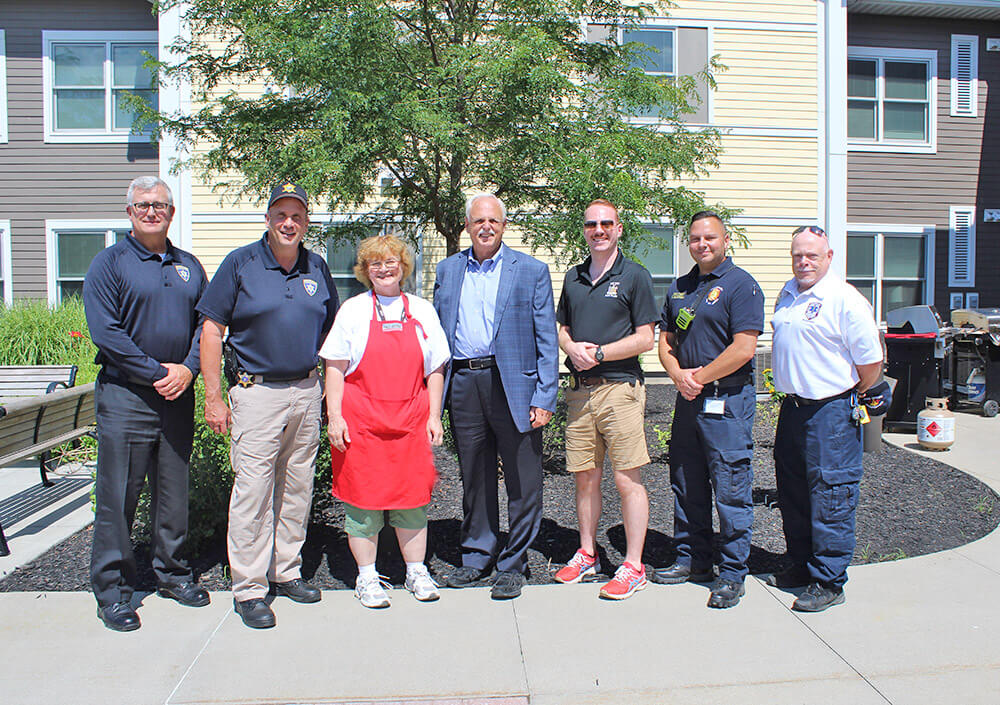 Pictured here (left to right) are Ontario County Chief of Corrections Chris Smith, Ontario County Sheriff Kevin Henderson, Trolley Station Housing Specialist Elizabeth Wiatrowski, DePaul President Mark Fuller, NYS Trooper Brian Hotchkiss, Canandaigua Fire Chief Frank Magnera and Canandaigua Emergency Squad Deputy Chief of Operations Arnie LaRocca.
"Our public service providers, law enforcement, fire and emergency medical not only protect and serve; we also build positive relationships within our communities," said Ontario County Sheriff Kevin Henderson. "We understand the current challenges that we are all dealing with, especially with COVID, but we must continue to be focused on these types of relationships.  Thank you to the residents and staff at Trolley Station for the opportunity, and the enjoyable day."
Thank you to the New York State Troopers, Ontario County Sheriff's Department, Canandaigua Fire Department, Canandaigua Emergency Squad for their participation. And thank you to Canandaigua Quick Print, Wegmans, Zweigle's and Tim Hortons for the generous donations.
For more information about Trolley Station, visit www.depaul.org/locations/trolley-station-apartments/. Applicants must meet the eligibility requirements of the Low-Income Housing Tax Credit Program. Income and occupancy requirements apply. An application can be found here.