Careers at DePaul – It's a Passion!
March 16, 2022 (Rochester, NY) –   Are you or someone you know looking for a career where you can make a difference? There are countless reasons to celebrate being part of our inclusive culture of caring at DePaul, including a $1,000 sign-on bonus, highly competitive starting wages and a generous array of benefits!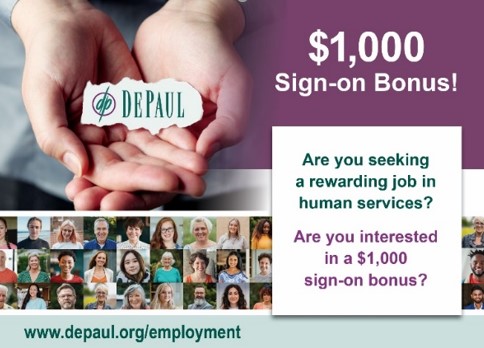 For over 60 years, DePaul's mission has been to assist individuals in achieving their optimum level of independence and success in the environment of their choice, while remaining sensitive to assessed community needs and available resources. Our nearly 1,000 employees are part of a dedicated team who truly care and take pride in everything we do.
DePaul offers a variety of rewarding careers with room for advancement in the areas of senior living, mental health residential and support services, affordable housing, vocational programming and addiction prevention and support. As DePaul continues to grow, we often hire Residential Counselors, Residential Service Coordinators, Personal Care Aides/Home Health Aides and Medication Technicians within our residential communities. Explore these and other popular careers at DePaul here.
To learn more about becoming a member of our passionate, mission-driven team, visit http://www.depaul.org/employment/.
In honor of Valentine's Day, we asked our staff and residents what they love about DePaul and the response was overwhelming! It's clear that those living and working at DePaul embrace our agency's culture of caring and our mission to provide the highest quality, supportive workplaces and housing environments. Visit the DePaul Blog to read  more of the heart-warming and inspirational responses from staff and residents!