Christina Serrano…The Future Awaits
Having a safe, well-maintained, supportive place to live is something many take for granted. On her own since she was 16, Christina Serrano, knows what it's like to do without. She's slept on trains, in the park and in shelters. She's experienced the passing of her parents and abusive partnership situations. But now she and her 16-year-old son have found a new beginning at the Joseph L. Allen Apartments in Schenectady, New York.
Christina, 35 and a Brooklyn native, had long searched for a downstate apartment but the waiting time to obtain affordable housing in that region often took five to ten years. She eventually moved to Schenectady when her son was three to look for housing and to be closer to her older sisters. Over the years, she found work in dog grooming, with a summer youth program and through temporary service agencies. Her PTSD, anxiety, bipolar disorder and depression eventually became overwhelming and she could no longer maintain gainful employment. She extracted herself from an abusive situation and her case worker connected her with her new apartment where she now resides with her son and therapy dog.
"Since I've been here, I've really come to love the staff," she said. "I cook for people. My family is proud of me."
She continues on about how proud she is of her son, now 16, and how well he does in school. The Joseph L. Allen Apartments have provided a supportive environment in which to thrive.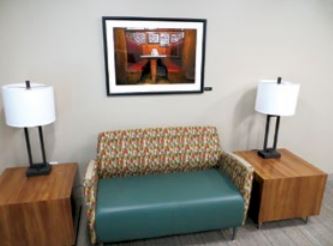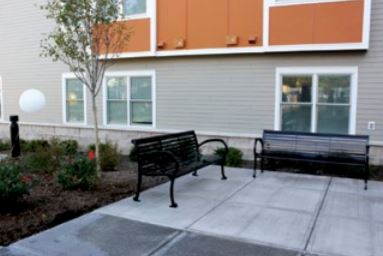 The future is bright for Christina who speaks with enthusiasm about her goal of obtaining her GED and studying to be a veterinary technician.
"I was so lucky they picked me," she said. "This is a beautiful place. I love my apartment. It's really helped in my recovery."
Click here to learn more about the Joseph L. Allen Apartments in Schenectady, New York.