David Kulpinski … A Healing Journey
As David Kulpinski, 65, reflects back on his life, he recalls an idyllic childhood in Webster, New York filled with nature hikes and neighborhood pals, his passion for swimming and academics, and a loving family gone too soon. A member of the National Honor Society and a high school athlete who lettered in swimming, David went to Columbia University with dreams of becoming a doctor. While there, signs of a psychiatric disability appeared and David left school, traveled the country with friends and ended up in Florida working as a lifeguard.
He eventually returned to Rochester where he held a number of jobs, enjoying most those that involved working with people. In the midst of his journey, David relied on his unwavering faith to buoy him when times were difficult.
David often heard voices, was subsequently hospitalized and lived in a variety of residential programs including some of DePaul's original community residences established during the 1980s. Today, he's delighted to have found a home that makes him happy at Parkside, a DePaul Community Residence-Single Room Occupancy Program in East Rochester, where he's lived since 2015.
"These are my people," David said emphatically. "This is my new life. It's a safe, healthy, comfortable place to grow and to heal. I can't tell you how good DePaul is." He particularly appreciates the food, macaroni and cheese being his favorite, and the great staff who you can "go to with any problem."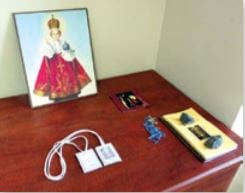 He's truly made the most of being part of a community, regularly attending church and volunteering at a charity second hand shop. A dapper dresser, David still enjoys the activities of his youth which include swimming at the YMCA, hiking and reading.
David strives to always improve and his next big step is a move to the Ridgeview Commons Apartment Treatment Program where he will enjoy greater independence in his very own apartment. He plans on connecting with the surrounding community just as he did in East Rochester and, as a lifelong animal lover, may even volunteer at the Seneca Park Zoo. "I'll have my own kitchen and will be able to shop, cook what I like, and live more independently."
"I hope anyone out there who needs a sign of hope and a sign of help…hopefully they can see that I got help here at DePaul," said David. "Good help. And if someone sees this and they need help, they're in a dark spot, a tough place, you can go to DePaul for help…it certainly helped me."
Click here to learn more about the Ridgeview Commons Apartment Treatment Program.