Georgetta B. … the Kindest Soul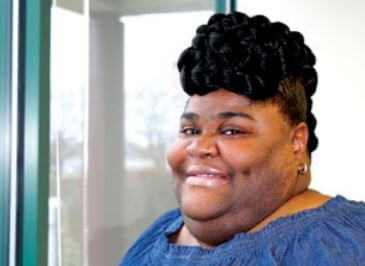 Georgetta B. is a gentle soul who exudes kindness with every soft-spoken word she utters. A resident of the Carriage Factory Apartments in Rochester, New York, Georgetta is a constant presence at the day recreation program held two days per week at DePaul's Recreation Center where she particularly enjoys the arts and crafts activities as well as the outings.
The stylish, 36-year-old Rochester native graduated from high school and went on to hold several jobs including her favorite as an aide in the Rochester City School District where she spent three years. She was ultimately diagnosed with a seizure disorder and then began exhibiting signs of a psychiatric disability including depression and hearing voices. Following a hospitalization, Georgetta entered a DePaul Licensed Congregate Treatment Site in 2009, eventually transitioning to an Apartment Treatment Program and now to the Supportive Scattered-Site Housing Program.
She loves her apartment and enjoys the independence she experiences through grocery shopping, cooking and maintaining her own place. Her family members have always been a strong source of support and Georgetta regularly sees her siblings and talks with her mother who resides out of state. She also has a new goal of doing volunteer work in the community.
Georgetta looks forward to her time at DePaul's Recreation Center where she can explore her creative side, talk with friends and go shopping at some of her favorite haunts like the Dollar Tree and Walmart. "I really like the recreation staff," she said. "They are good people and really warm. I look forward to coming here every week. All my needs are being met."
She recognizes that there are others in the community facing similar struggles and to them she advises, "Take a chance. Get help. Don't let that be the issue that stops you. Reach out because help is there. DePaul is wonderful. It's a really great place."
Click here to learn more about DePaul's recreation program and the Carriage Factory Apartments.