Mamie Floyd – A New Beginning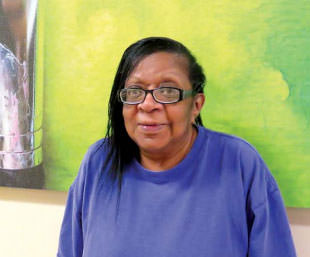 Mamie Floyd has a seemingly endless list of reasons she loves living at the DePaul Riverside Apartments in Buffalo, New York. Prior to arriving in April 2014, Mamie found herself isolated and separated from family and friends in a less-than-desirable apartment with limited options for the future. A friend referred her to DePaul just in time.
"I said 'Lord please don't let me get turned away,' " Mamie recalled. "Riverside was so much more than I ever hoped for. The rent is affordable. It's safe. The staff are always so nice and concerned. The people who live here are great. It's designed well. I can easily get to the laundry room and my storage area. Everything here is right! You can tell DePaul really cares."
Mamie, 65, is one of 12 children from a "strong, praying family" and a native of Pennsylvania who moved to Buffalo over thirty years ago with her two young sons. A high school graduate, she worked as a nurse's aide until her own health issues rendered her disabled. In her new apartment, she's made linkages to supportive services and truly appreciates the convenience of the location, the inclusion, and how at home she feels.
Her African Grey Parrot, Troubles, is a present from her son. She affectionately refers to him as the "human bird," noting he has provided her with therapeutic companionship and chatty conversation for eight years. His cage is front and center in Mamie's living room, as he occupies a special place in her heart.
Mamie sadly lost one of her sons but receives regular visits from her surviving son, five grandchildren and four great-grandchildren. "My son feels that my new apartment is just right in so many ways," she said.
A lover of gospel music, Mamie is a modern woman who also stays connected with family and friends on Facebook. She enjoys visiting stores in the neighborhood and cooking. Her specialty is lasagna.
Mamie can't say enough about her new place. "There is peace and quiet here. It's safe and people really care. I have freedom and I feel loved. They're going to have to put me in a pine box to get me out! I'm never leaving because I couldn't ask for anything better."
---
Learn more about the Riverside Apartments and DePaul affordable housing.