Mitchell Boutté…A Long Journey Home
Hills and valleys. Mitchell Boutté has experienced both in his journey through life and toward recovery. Mitchell, 57, was adopted as a baby, and lived with his parents, two sisters and a brother in many places including Louisiana, Rochester, New York, Texas and California. A divorced father of three, he primarily worked driving a truck for 20 years until addiction to alcohol and a mental health diagnosis overtook him. The decline was dramatic, leading Mitchell to temporarily falter and lose the people and things most important to him. Things reached a crescendo when he went on a self-destructive, 13-day binge while living alone in a decrepit rooming house.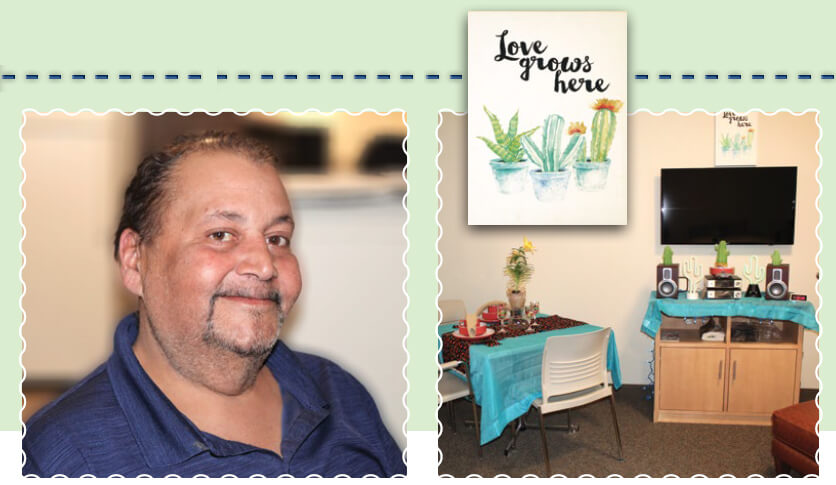 "I was so broken," he said. "I couldn't take it anymore." That led to a 911 call, hospitalization and eventual placement at DePaul's Hopelink at Shelter Cove Program, a short-stay residence in Churchville, New York, for adults being discharged from a medical hospital which is a collaboration with Strong Memorial Hospital/ University of Rochester Medical Center. At Hopelink, he was able to begin the healing process and turn his life toward hope. "Shelter Cove was safe," he said. "It was my sanctuary."
His next stop was getting an apartment at the DePaul Upper Falls Square Apartments. "You have to come from where you were to realize where you are," he said. "I used to wear many masks but this place has done wonders for my psyche. I don't cry anymore. It's so very nice to enjoy happiness."
Mitchell is taking advantage of the many opportunities and supports that come his way. He's attending a Personalized Recovery Oriented Services (PROS) program where he takes courses, learning coping skills for managing his PTSD and depression. He also facilitates a class for others in recovery, finding that he has a knack for encouraging people to share and heal. And he's considering his options, entertaining becoming a peer support specialist and possibly doing voice-over work, a longtime interest. He's also hoping to do more baking, his specialty is cheesecake, get a therapy dog and most importantly, reestablish relationships that have been damaged over the years.
"DePaul saved my life," he said with emotion, "at Shelter Cove and at Upper Falls Square. The people at DePaul…I thought it was too good to be true. It takes effort to recover—and inner strength— but my prayers were answered. I feel I'm home."