Suzette Evringham…Dedicated to Excellence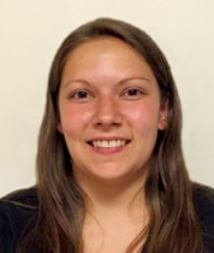 Enthusiastic, thorough, committed, tenacious. All are words that accurately describe Suzette Evringham, 29, a Human Resource Assistant at the University of Rochester and a client of DePaul's WorkGuide Program. Suzette was referred to WorkGuide via ACCES-VR following her graduation from Rochester Institute of Technology with a Bachelor's degree in International Studies and a Master's degree in Human Resource Development. She was struggling to find a job in her field due to a lack of experience and a communication barrier.
Suzette was born Deaf and was "raised by wonderful Deaf parents along with my Deaf sister and brother," she said. "The deafness became a communication barrier in the workplace environment. They felt uncertain with how to deal with the communication barrier."
Suzette entered the WorkGuide Transitional program in June 2016 and started the pre-placement evaluation before starting her volunteer placement experience in November 2016. The initial goal was for Suzette to gain short-term volunteer experience, specifically in the Human Resource field with the Catholic Family Center as a Human Resource Assistant. Upon completion, she continued working with the WorkGuide staff for her next job opportunity. "During the entire process, I also met with the staff to revise my resumé, cover letter, and discuss strategies in the job search process."
She went on to work as a Deaf Communication Specialist at the Center for Disability Rights and is currently a Human Resource Assistant at the University of Rochester where she processes the employee life cycle into the Human Resources Management System including hiring, transferring, promotions, terminations and retirements for employees.
"The experience at WorkGuide was wonderful, especially with the resources that they offered," Suzette said. "It helped me gain volunteer placement experience related to the Human Resource field. That solid experience helped me to land my current full-time position. WorkGuide staff offered a lot of constructive feedback and especially the positive reinforcement, which really helped. Their constant coaching, support and encouragement helped put the drive in me. They also listened to my desires, expectations and goals, then utilized them to help me find my career path."
A proud aunt to her adorable niece and four nephews to whom she's very dedicated, Suzette also loves to do jigsaw puzzles, go on camping trips and travel around the world.
Suzette is enjoying obtaining hands-on professional experience in her current role and hopes to work her way into increasingly more challenging positions in the human resources field.
"There is always something out there for you," she said. "You just need to be determined and persistent in your job and life search process, regardless of the barriers that are out there."
Click here to learn more about WorkGuide.