Thomas Ware III – Embracing simple pleasures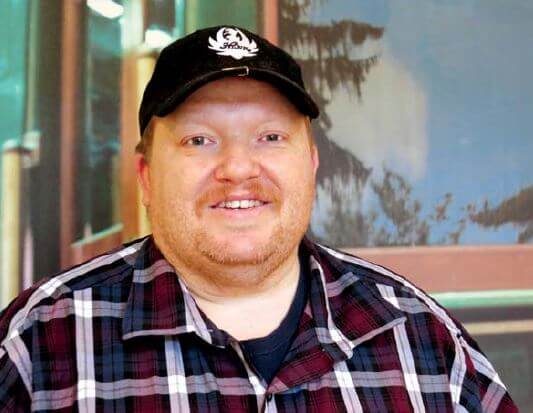 From his engaging Southern drawl to his love of jokes, Thomas Ware III is a man who takes life one day at a time. Thomas, 42, became a resident of the Trolley Station Apartments in October 2016 by way of Virginia where he was residing in housing that presented limitations. Thomas was injured when struck by an automobile at the age of two and was left with a brain injury. Over time, it was apparent that Thomas would benefit from being closer to his father and stepmother Ellen, residents of Canandaigua, New York. They learned of Trolley Station and realized it would be the perfect home for Thomas and would allow them to help him with transportation and any other needs. "My Daddy and Ellen have helped me so much," said Thomas. "I really love them."
A fan of word search puzzles, comedy, country music, and of course a good laugh, Thomas loves his new home where he regularly attends a cooking class and socializes with his neighbors. He also checks in with staff every morning, sharing a few jokes and to just say hello.
"My apartment is new and clean and I love being independent," he said. "I have friends and I'm settled. There is always something to do – game night, watching movies and playing cards. People here are so nice. They listen to me if I have a problem."
"I thank the Lord every day for this place," said Thomas. "And I thank Daddy and Ellen for not settling for something else and finding Trolley Station."
---
Learn more about the Trolley Station Apartments and DePaul affordable housing.