NCADD-RA Updates: Problem Gambling Awareness Month (March 2017)
By: Justine Smith, New Media/Web Content Coordinator

Did you know that over 5 million Americans meet the criteria for gambling addiction? 
It's a startling statistic, especially when only a fraction of those people seek help. That's why The National Council on Problem Gambling (NCPG) is raising awareness for problem gambling this March with National Problem Gambling Awareness Month (PGAM).
2017's theme is Have the Conversation (#HaveTheConvo). Get the facts before you start a conversation by checking out the fact sheets, infographics and more offered by the NCPG under their Tools & Resources section.
Locally, Jennifer Faringer, Director of DePaul's National Council on Alcoholism and Drug Dependence- Rochester Area discussed underage problem gambling with WARM 101.3's Kevin Gillan earlier this month. 
NCADD-RA also recently received the sixth consecutive mini-grant from the New York Council on Problem Gambling (NYCPG). The YOU(th) Decide Project is aimed at empowering youth ages 12-17 to make educated decisions regarding their gambling behaviors and to prepare communities to work together to prevent underage problem gambling.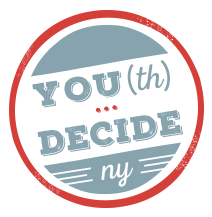 The project runs from February through November 2017, during which time NCADD-RA will be offering, upon request, problem gambling presentations for youth ages 12-17 with a focus on deconstructing media messages.
Presentations targeting parents and staff to increase knowledge of and parental action toward underage problem gambling by encouraging a conversation between youth and adults are available upon request. For further information, please contact Jennifer Faringer at (585) 719-3480 or email jfaringer@depaul.org.
---
DePaul is proud that NCADD-RA staff work every day to positively influence the social norms which perpetuate the use and abuse of problem gambling as well as of alcohol and other drugs.
NCADD-RA and(NYCPG also offer free tool kits, infographics and ads:
(Click images to view larger)
For more information on problem gambling, including a parent toolkit and YOU(th) Decide materials, please contact Jennifer Faringer, NCADD-RA Director, at (585) 719-3480 or jfaringer@depaul.org.
If you share about PGAM on social media, make sure to use the #pgam and #HaveTheConvo hashtags!