From the Streets to the Airwaves
By: Amy Cavalier, Communications/Development Coordinator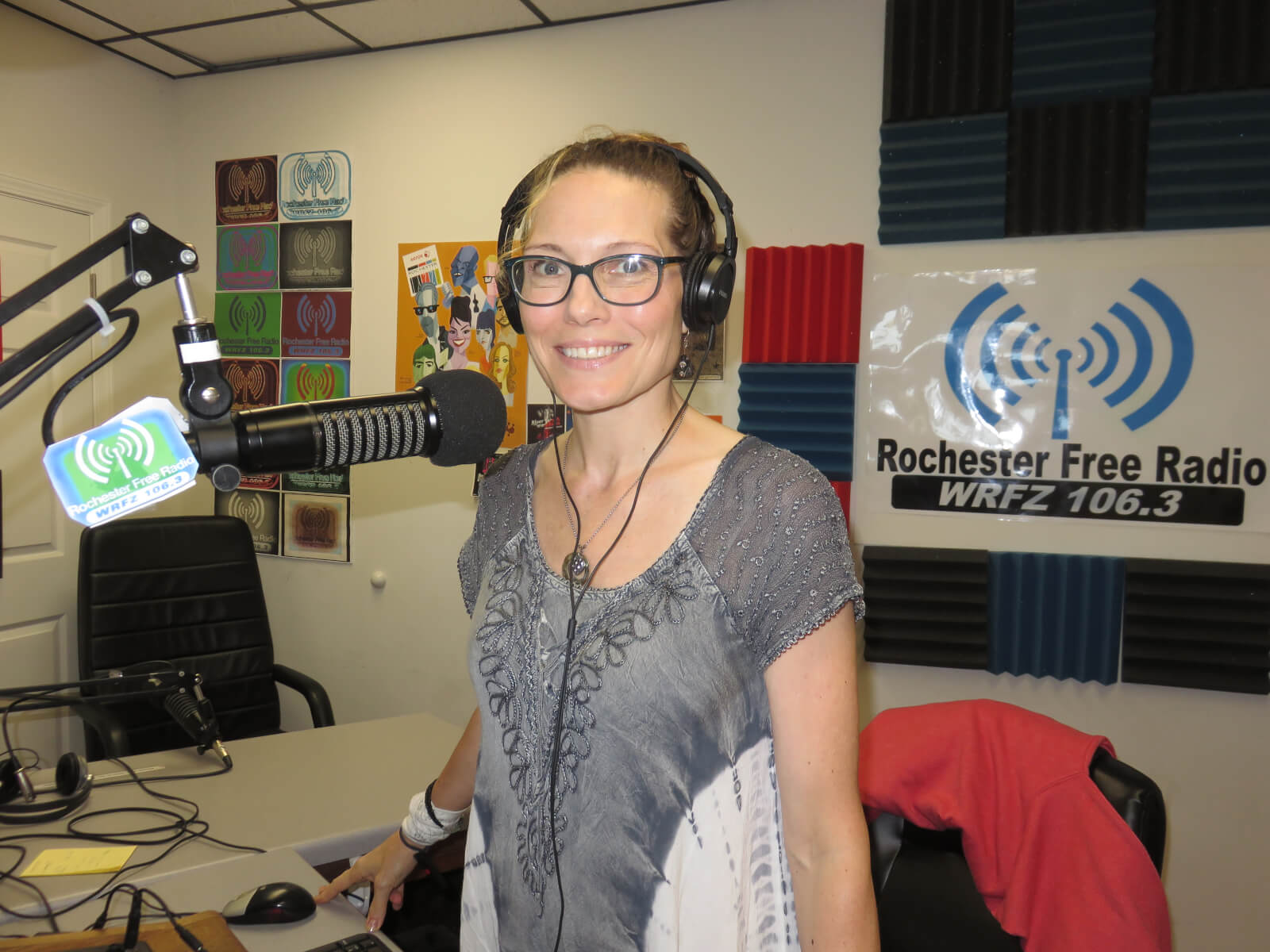 There are places that still haunt Lisa K. She's still coming to terms with the effects of years of abuse, drug addiction and violence which she experienced living in the inner-city of Rochester, New York.
"Monroe Avenue had an unbelievable pull, a magnetic force," she said. "I literally felt my body being pulled there."
She entered her first rehab at the age of 15. From age 19 to 41, Lisa was in and out of institutions, jail and half-way homes. About that same time she was in a terrible car accident that left her with crushed vertebrae and chronic pain that still plagues her. She struggled with addiction and became homeless and destitute. By the time she was 41, she was diagnosed with severe post-traumatic stress disorder.
"I still struggle with an onslaught of memories of things that happened to me when I was an addict," she says. "I lost my mind. I lost everything."
With the help of DePaul's Supported Housing Program, Lisa moved out of the city and into a carriage house in the suburbs about a year and a half ago.
"I'm not consistently reminded when I walk out the door," she said. "I'm not smelling marijuana or hearing the booming bass. It's quiet where I am. I didn't even realize what it meant to feel safe until I got into a place without all those stressors."
Finding her purpose
Today, Lisa is nine years sober. She still struggles with anxiety and negative self-talk which she refers to as the "monsters" in her head. She's found strength in her work creating support groups for women in the city, sharing her story in area prisons, treatment centers and half-way homes, as well as doing one-on-one mentoring with individuals struggling with addiction. She credits God, her environment, her therapy dog and eye movement desensitization and reprocessing, a form of psychotherapy designed to alleviate the distress associated with traumatic memories, with saving her.
"I guess I found my purpose," she said. "I realized I have a lot to offer and a lot to learn too."
Once a week, she hosts her own two-hour radio show, Transcendental Thursdays, on Rochester Free Radio 106.3 FM. A certified recovery coach, Lisa shares her experiences on-air, as well as guided meditations, calming music and spiritual readings that resonate with her in an effort to cope with all that has happened.
Senior Supported Housing Specialist at DePaul's Upper Falls Square Apartments Krystal Kinder worked with Lisa for over a year through DePaul's Supported Housing Program in Monroe County.
"I have noticed Lisa's growth since I've been working with her mostly in how she lends herself in service of others," said Kinder. "She continues to adapt and find new coping skills to meet not only her needs, but also to make sure that she is in a good place to be able to assist others—which takes a lot! Lisa has done more outreach than I ever could have imagined and has been able to grow into other goals that she did not even see herself reaching when we first began working together."
Nothing short of a miracle

With the help of DePaul's Supported Housing Program and her own networking skills, she found a home peaceful and tranquil home away from the places that still haunt her.
"It really has been a godsend and nothing short of a miracle," she said. "At 50 years old, and having spent most of my life trapped in addiction living in the city of Rochester, to come to this place is pretty surreal."
Lisa is an undoubtedly strong and perseverant woman with a strong moral code that guides her in her decisions, Kinder said.
"Even in the fog of her past, she knew she had greater plans and continues to work hard through her recovery to build upon her goals and outreach to others," said Kinder. "Lisa often times forgets how strong she is, yet you can see it in how impactful she is to the lives of the women who benefit from her experiences, in how she manages day in and out with her own struggles and continues to help others."
Lisa has a 21-year-old daughter, which is a big motivating force in her getting and staying sober.
"I have a relationship with her that I could not see possible ten years ago," she said. "I became clean and sober as she was becoming a woman. I'm so blessed to be a mom. Many women like me don't get clean. I've seen many girlfriends die, leaving their children behind."
While she's building a new life, she still has bad days when the seeds of self-doubt sneak in and she's anxious. On those days, she worries that the street life will call her back.
"It's nasty, dark and awful, but that's where I felt important," she said. "At least I know what to expect there."
Yoga, meditation, reading the Bible and going to church have helped her with the feelings of shame and paranoia. She's begun writing down her experiences for a possible book, and hopes to begin working outside the field of addiction in the future.
"I'm learning how to enjoy life, how to be more grateful and how to move away from the past," she said.