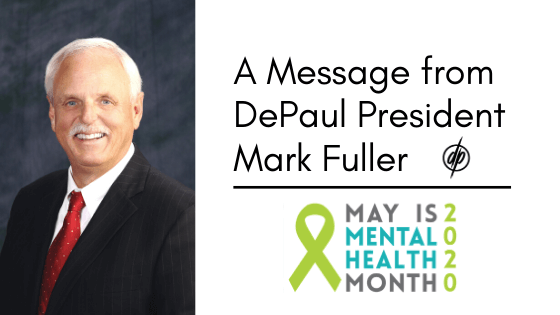 Each year, May is recognized as Mental Health Month. It is especially important to remember as we are living through unprecedented times that may impact emotional and mental wellness.
The occasion is truly is an opportunity to raise awareness to mental health, work to end stigma, provide support, educate people about the issue, and advocate for policies, services and care that support people with mental illness and their families. As a non-profit provider of residential, rehabilitation and support services to persons with mental illness in recovery for over 60 years, DePaul is dedicated to raising awareness, early identification and intervention, and community collaboration with the goal of eradicating stigma in the hope that those who need help receive it.
The actress Glenn Close, a well-known mental health advocate, said,
"What mental health needs is more sunlight, more candor, and more unashamed conversation." -Glenn Close
This is so very true – and a perfect time to recognize that is now. Talking about how you feel, knowing you can do so, and understanding that you are not alone has always been important … and perhaps more so today.
We see more than ever that housing is a critical factor supporting a person's recovery from a serious mental illness. DePaul offers housing options of varying levels of independence in communities throughout Western and Central New York state.  The range of options encompasses nearly 1,600 beds including licensed congregate treatment sites, apartment treatment programs, community residence-single room occupancy programs, and supportive housing.
As the COVID-19 pandemic and these unprecedented times continue, stable housing combined with other community-based supports is a foundational piece of the equation, helping people manage their symptoms and remain connected to families, social networks, communities, and future goals such as employment and educational opportunities.  Overwhelmingly positive outcomes see people steadily moving on to more independent levels of care. In addition, costs are far lower than the alternatives which sadly may include the revolving door of incarceration, hospitalization, and homelessness.
There is indeed a two-way relationship between mental health and homelessness which poses an obstacle to obtaining mental health treatment and support, securing stable housing, and the many other elements involved in achieving overall recovery. Recent reports show that 32 percent of homeless people reported a mental health diagnosis. A safe, secure place to live is vital, along with access to services that enable those with a mental health diagnosis to live as independently as possible. Housing is a basic necessity that is palpably felt even more today as we work through the challenges of COVID-19.
I'm so very proud of the care provided by DePaul's dedicated staff in safe, welcoming places that those we serve thrive in and call home. These supportive connections are a stable foundation for recovery that is even more keenly felt now during these challenging times.  Mental health should never have to be a silent struggle.
Mark H. Fuller
DePaul President