Honoring Deaf Awareness Month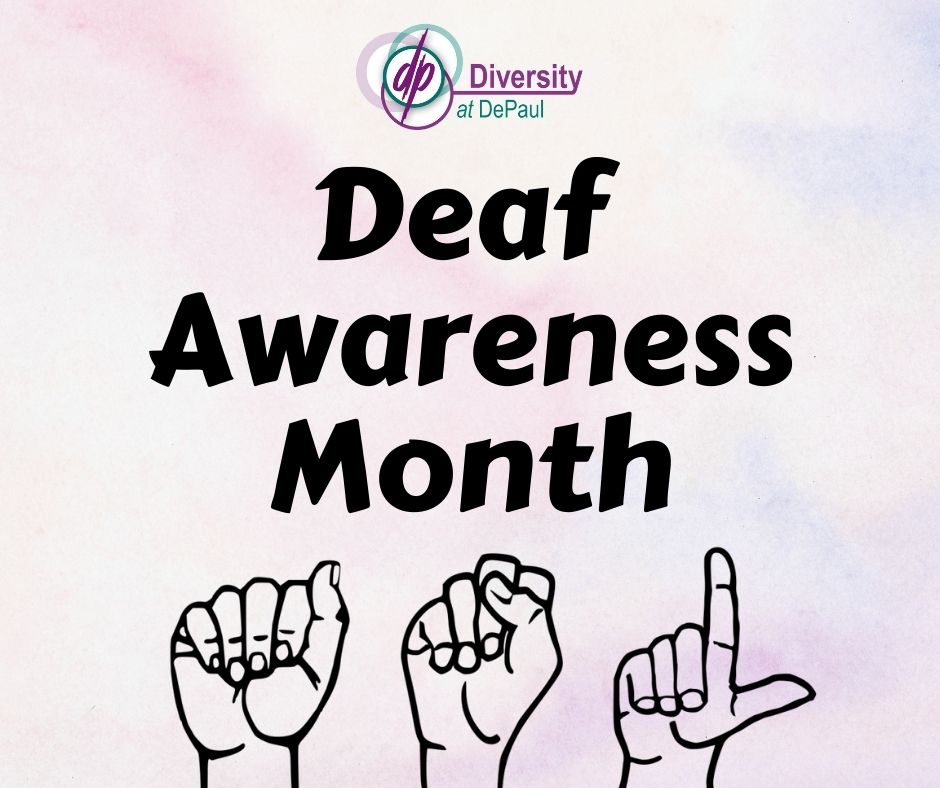 In honor of Deaf Awareness Month in September and International Week of the Deaf beginning September 20, join us as we recognize and remember DePaul's rich history of serving individuals who are Deaf in Western New York.
1980
DePaul began providing mental health residential services as part of the federal plan to de-institutionalize individuals who had been housed in state hospitals, sometimes for decades. Working with local leaders from the United Way, DePaul made a commitment to serve Deaf and hard of hearing adults in Monroe County, which was and continues to be home to one of the largest Deaf and hard of hearing populations per capita in the nation.
DePaul President Mark Fuller developed a vison for how these new programs could best serve the Deaf population of Western New York.
"It was the right thing to do," explains Fuller. "Throughout my career at DePaul there is nothing I have been prouder of."
---
1982
DePaul established the only Community Residence in the state for adults with both mental illness and those who were Deaf on St. Paul Street in Rochester, in the same neighborhood as the Rochester School for the Deaf and the Rochester Deaf Club.
Paula Silvestrone, former director of residential programs, remembers the amazing staff and residents.
"We recruited and hired an all-Deaf staff who were not only tasked with assessing residents for admission, setting up and running the house but also helping hearing administrators access American Sign Language (ASL) classes and learn Deaf culture," Silvestrone said.
Residents were admitted from all over New York state, many leaving institutions or families for the first time in their lives. Operating with the motto that "everyone deserves a chance," the program quickly filled and thrived.
While building the St. Paul Street Program, other DePaul leaders were concurrently adding Deaf services to the Continuing Day Treatment (CDT) Program launched in 1980 with the goal of improving mental health and teaching independent living skills using recreation programing. Clients who were Deaf were fully integrated into the CDT program with various Deaf, signing staff and on-site staff interpreters.
---
1985
DePaul's innovative approach to serving individuals who are Deaf continued when the agency built and opened the Atkinson Street Treatment Apartment Program (TAP) with the goal of assisting individuals in achieving their optimum level of independence and success. Two of the six, three-person apartments were engineered with the latest adaptive technology for Deaf and hard of hearing individuals. Clinical Coordinator of Treatment Services at DePaul Linda Donahue was a Counselor on the Atkinson Street opening team.
"It was such a cool place," she said. "The integration of Deaf and hearing languages used by staff and residents combined with the culture of the neighborhood was amazing."
Linda recalls working to allay the concerns of families of the Deaf residents moving from the St. Paul Street Community Residence to the Atkinson Street TAP.
"I spent many hours on the phone reassuring them, answering their questions, and appreciating their feedback for what we were doing at DePaul," said Donahue.
Michelle Casey, former Atkinson Street counselor and current member of the DePaul Board of Directors, recalls some of the residents.
"One had a personal computer from Radio Shack when most people did not even know what you did with computers," Casey said. "He was writing code for video games he invented. Another older, very kind gentleman spent decades in the state hospital solely because he was Deaf."
Lynne Hamilton, former manager of both the St. Paul Street Community Residence and Atkinson Street TAP also has fond memories of residents.
"It's a privilege to recall these moments, ranging from joyous to challenging," Hamilton said. "I specifically remember the homemade birthday cards we all received from a resident who memorized everyone's birthday!"
---
1992
In alignment with the agency's commitment to providing the highest quality care, DePaul built a new Community Residence on Embury Road to replace St. Paul Street. In addition to providing housing for 14 residents who were Deaf, Deaf-Blind or hard of hearing, the community provided internship and volunteer opportunities for social work and psychology students who used ASL from area colleges and universities.
Diane Cinney, a former manager of Embury Road, recalls a true family feeling amongst staff and clients, with many of the residents and staff having been there for decades.
"To this day, many former staff members credit their time at Embury Road as the means of discovering their passions and career paths," Cinney said. "It was the launching pad for a wide-range of successful careers."
Staff were fluent in ASL and competent in Deaf culture. The Community Residence incorporated many elements of Deaf culture – from the types of recreational activities that were hosted to the artwork on the walls, the movies chosen for movie nights, etc. Holidays and resident birthdays always brought large crowds, with residents, residents' families, community members, and staff gathering to celebrate together.
In January of 2011, the Embury Road Community Residence closed with several residents moving on to various independent living programs and supported housing programs, and the rest relocating to the Halstead Square Community Residence-Single Room Occupancy (CR-SRO) Program.
---
2010
Discussions with clients who are Deaf and hard of hearing served by DePaul revealed there were still opportunities to create safe, supportive, affordable housing. Vice President of DePaul Properties, Inc. Gillian Conde and Board Member Diane Cinney began hosting focus groups with the Rochester Deaf Club, professionals at the National Center for Deaf Health Research at the University of Rochester Medical Center as well as Rochesterians who are Deaf and hard of hearing in an effort to become more educated on housing and employment service needs.
These focus groups led to plans for a residential community that included state-of-the-art communication equipment and high-contrast visual design. As a result, DePaul's Rochester View Apartments in Henrietta were born.
The Rochester View Apartments (RVA) opened in 2015 with design features intended to create a more inclusive living environment for individuals who are Deaf or hard of hearing. Features include open floor plans with handrails, bedrooms wired to allow for bed shakers in case of fire or other emergencies, hard-wired strobe lighting for CO and fire alarms, lighted door alarms, video phone and video conferencing capability, signage with Braille markings, and an on-site manager fluent in ASL. In addition, DePaul partnered with local artists as well as the National Technical Institute for the Deaf (NTID) to display artwork in the building.
"DePaul has paved the way toward providing the Deaf community with much-needed affordable housing," said DePaul Board Member and member of the Rochester View Apartments Advisory Board of Professionals Anthony DiGiovanni. "The building represents a long road for Deaf community members since this topic has been discussed for more than 25 years. I cannot express enough gratitude toward DePaul for their leadership in bringing the Rochester View Apartments to fruition."
---
2013
DePaul was approached by Adult Career and Continuing Education Services-Vocational Rehabilitation (ACCES-VR) in response to the closure of the Rochester City School District's Promoting Relationships Involving Deaf Employees (PRIDE), a supported-employment program to help individuals look for, acquire and maintain competitive employment. In order to close the gap in services, DePaul's WorkGuide team took part in workshops and were enrolled in ASL classes.
What began with serving 13 Deaf individuals transferred from the PRIDE Program grew as ACCES-VR utilized DePaul as a primary provider for Deaf Employment Service referrals in Monroe County. Since 2013, DePaul's WorkGuide has served upwards of 341 individuals who are Deaf or hard of hearing.
WorkGuide has continuously employed a Deaf vocational counselor. Program Director Fiona Osier said a diverse team representing the individuals DePaul serves is beneficial to the team, services and program as a whole.
"The Deaf staff have been great advocates and are very effective at developing connections with businesses which lead to a high number of placements and long-term success for those served by the program," said Osier. "In addition, participants who are Deaf often trust the advice, guidance and feedback of staff who are Deaf."
---
2021
As word about RVA spread, the opportunity to create the same type of housing in Cheektowaga arose for DePaul. Once again, Conde and RVA Property Manager Denise Fry began discussions with the Deaf and hard of hearing population resulting in DePaul's Apple Blossom Apartments being built in Buffalo. The campus, featuring three buildings named after apples grown in New York State, serves persons who may be Deaf or hard of hearing, as well as individuals with a mental health diagnosis and frail or disabled seniors.
"It's always about the people, if we just listen to what they need," said Conde.
DePaul remains a statewide leader in the provision of residential and vocational services for Deaf and hard of hearing adults.
"I am so proud that DePaul has continued its commitment to serve this community," said Michelle Casey. "My hat goes off to Mark Fuller and to all the staff over the years that have put their heart and soul into these services."
---
In memory of Shirley Dennison. Our beloved colleague, friend and mentor.