Is vaping the cigarette for the next generation of those addicted to nicotine?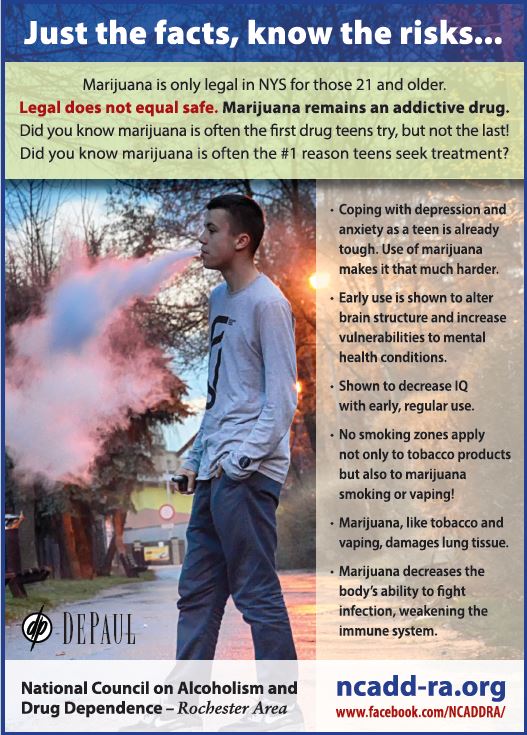 By Jennifer Faringer, MS.ED, CPP-G, Director of the National Council on Alcoholism and Drug Dependence – Rochester Area
During the pandemic, there were reported increases of misuse of several drugs among youth including alcohol, marijuana and nicotine in the form of vaping. School districts are continuing to struggle with how best to effectively respond to the increase in vaping not only among teens, but also pre-teens and more recently among elementary school-age youth.
Key findings from the 2021-2022 School Year Monroe County Youth Risk Behavior Survey (YRBS) pertaining to vaping among youth include:
23 percent of students reported vaping
43 percent of students who vaped in past 12 months reported quitting and no longer vape
22 percent tried to quit and but still vape
81.5 percent reported they think vape products are addictive
https://www.monroecounty.gov/files/health/health-action/MC%20YRBS%202021-22%20FINAL.pdf
When students were asked why they use…
Over 28 percent said to destress
14 percent said it was to get a nicotine buzz
Nearly 14 percent vape because their friends vape
Eight percent said they have experienced cravings and are unable to quit
Big tobacco has once again normalized use with electronic cigarettes or vapes, creating trendy and attractive products with multiple flavors that attract youth.
"Nicotine is a highly addictive drug. Many teens who start with e-cigarettes may be condemned to struggling with a lifelong addiction to nicotine and conventional cigarettes," said Centers for Disease Control Director Tom Frieden, M.D., M.P.H.
Despite the many myths surrounding electronic nicotine devices or vapes, they are:
Not proven to be safe
Not proven effective as a Nicotine Replacement Therapy
Not harmless water vapor
Addictive, can harm brain development
Harmful not only to the individual using but also harmful as secondhand smoke/vapor
Used to vape not only nicotine, but also marijuana and its high potency concentrates
The more recent fourth generation vape products are far more potent than the earlier versions, containing as much as 50 to 65 percent or more of nicotine (similar to three to four packs of cigarettes) and are therefore far more addictive. High potency nicotine is not the only risk with vape products as they also contain propylene glycol, lead, acetaldehyde, formaldehyde, toluene, acetone and more. Depending upon frequency, potency and other contributing factors, vaping may lead to changes in the brain which may be long lasting and, in some cases, cause permanent damage.
Monroe County's Ecopark is now accepting e-cigarettes, vape devices and e-liquids. Safely dispose of these items Wednesdays from 1:00 to 6:30 p.m. or Saturday 7:30 a.m. to 1:00 p.m.
For more information and resources for parents and educators, visit NCADD-RA's  website at
https://ncadd-ra.org/resources/awareness-campaigns/ends-electronic-nicotine-devices