Senior Olympians Got Game! (Glenwell)
November 10, 2016 (Cheektowaga, NY) ─ Residents of Glenwell, a DePaul Senior Living Community in Cheektowaga, competed in the 10th annual DePaul Senior Living Olympics which took place on Friday, November 4 at DePaul's Recreation Center located at 1931 Buffalo Road.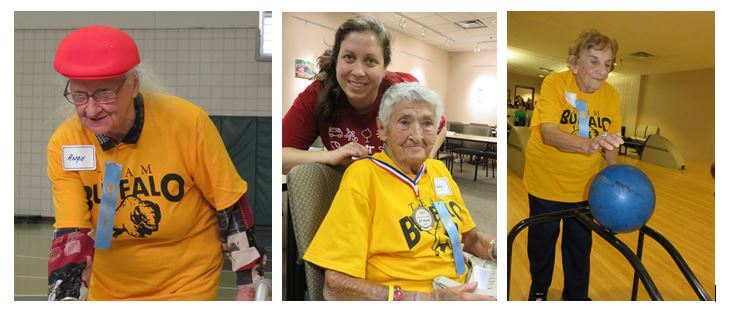 Pictured above, Glenwell resident Angie Cruver tries her hand at shuffle board, Shirley Hanes receives a gold medal from DePaul Activities Coordinator Laurenne Lavictoire for her first-place finish in the Word Search competition and Frances Moran steps up to bowl during DePaul's 10th annual Senior Olympics.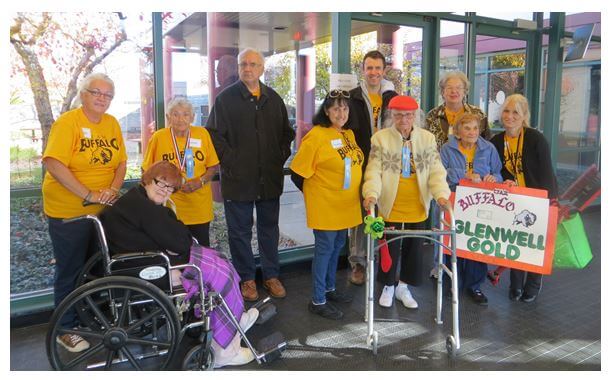 Glenwell's team included Karen Mozingo, Janet Ruth, Shirley Hanes, Ronald Janicki, Donna Beaton, Angie Cruver, Elizabeth Suchocki, and Frances Moran, with support by Activities Director Scott Wieser and Activities Assistant Bonnie Tucker.
Glenwell participated in the annual games along with residents from three other DePaul Senior Living Communities − Westwood Commons in North Chili, Woodcrest Commons in Henrietta, Horizons in Canandaigua – as well as from Rochester General Health System's ElderONE. Events included a spelling bee, shuffleboard, a putting green and bean bag toss, bowling, Wii Bowling and word search.
For more information about Glenwell, please contact Administrator Stacie Major at (716) 608-7000 or visit us on Facebook.