Senior Olympians Got Game! (Westwood Commons)
November 10, 2016 (North Chili, NY) ─ Residents of Westwood Commons, a DePaul Senior Living Community in North Chili, competed in the 10th annual DePaul Senior Olympics on Friday,  November 4 at DePaul's Recreation Center located at 1931 Buffalo Road.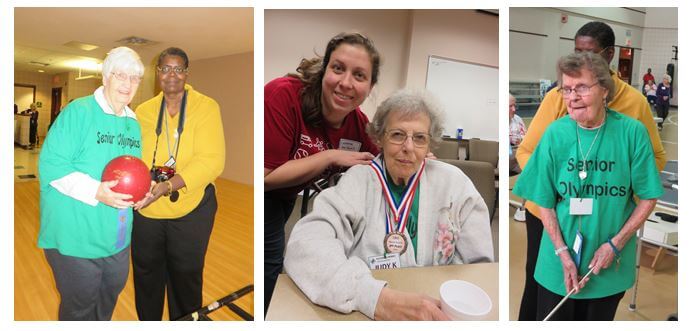 Pictured above, Westwood Commons resident Alice Brenkus steps up to bowl along with Activities Director Cathy Toney; Judy Kinch accepts a silver medal in the spelling bee competition and Florence VanCott gives her best performance during shuffleboard.

Westwood Commons team included (front row, left to right) Mary Masceri, Barbara Kosciolek, Florence VanCott, Shirley Miller,  Ann Bell, Florence Michaloski,  and Judy Kinch, (back row, left to right) Alice Brenkus, Dorothy Harkness and Louise Ziegler.
Westwood Commons participated in the annual games along with residents from three other DePaul Senior Living Communities − Woodcrest Commons in Henrietta, Horizons in Canandaigua, and Glenwell in Cheektowaga – as well as from Rochester General Health System's ElderONE. Events included a spelling bee, shuffleboard, a putting green and bean bag toss, bowling, Wii Bowling and word search.
For more information about Westwood Commons, please contact Administrator Karen Shaffer at (585) 293-2060 or visit us on Facebook.