A Ride on the Wild Side (Westwood Commons)
September 19, 2019 (North Chili, NY) ─Water buffalo, emus and zebras, oh my! Residents from Westwood Commons, a DePaul Senior Living Community in North Chili, took a ride on the wild side during a safari adventure at Hidden Valley Animal Adventure in Wyoming County.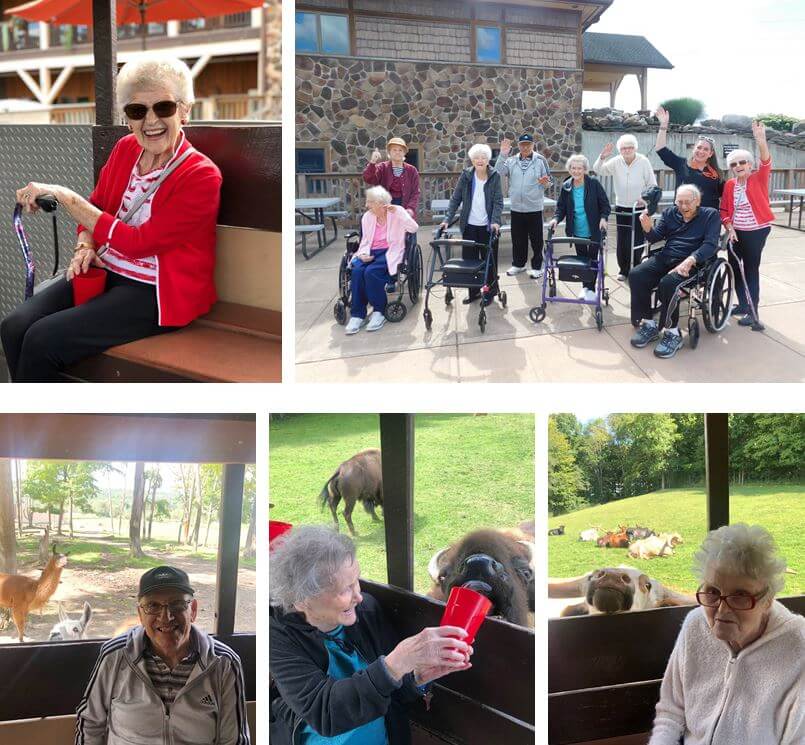 Pictured clockwise above on a wild adventure to Hidden Valley are Westwood Commons residents Mary Ann Comstock; Marian Kanicsar, Joyce Vembre, Dorothy Harkness, Manny Gutierrez, Anna Bell, Marilyn Fegyo, Chester Seil, Mary Ann Comstock and Administrator Caitlyn Mark; Marilyn Fegyo; Anna Bell and Manny Gutierrez.
Wild Game Safari's guided trolley tour covers over two miles of trails on 63 acres of land where guests can get up close and personal with some 300 animals. According to Activities Director Cathy Toney, residents had the opportunity to feed long horn cattle, camels, elk, water buffalo, emu, yak and zebras. They even saw a baby bison nursing!
"The tour guide was full of knowledge, so our trip was filled with furry-fun and facts," said Toney. "Everyone had a blast filled with adventure. The residents loved escaping the day to day and being a part of the wild! Many were still talking about it today."
For more information about Westwood Commons, please contact Administrator Caitlyn Mark at (585) 293-2060, at cmark@depaul.org or visit us on Facebook.