Healing With Hobbies at Glenwell
April 16, 2021 (Cheektowaga, NY) ─ In an effort to pass the time and cope during the pandemic, many have rediscovered hobbies or found new creative outlets over the past year.  At Glenwell, a DePaul Senior Living Community in Cheektowaga, two residents have found healing and joy in artistic expression!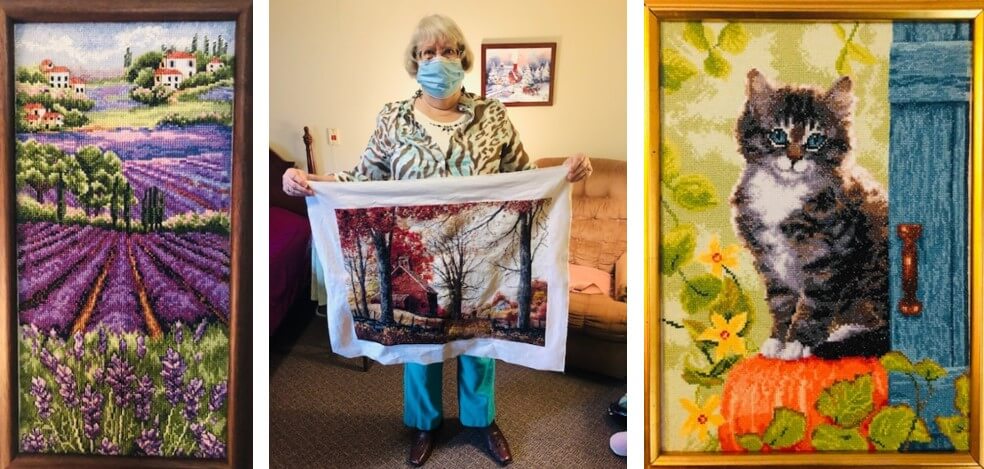 Cynthia Magrum found solace in cross-stitch. She's always been artistic, learning to draw and paint at a young age. Her mother taught her embroidery. At 20, she began to cross-stitch. These days, she spends up to seven hours a day working on projects!
Cynthia has completed about four pieces over the past year and about 25 in her lifetime. She is currently working on 38 small Christmas stockings which she plans to fill with candy to give as gifts. Cross-stitch is relaxing for Cynthia and she enjoys sharing her work with others.
Although she never was much into art, Mary Matre discovered a side of herself that didn't know existed during the pandemic. As someone who likes to stay busy, Mary was seeking out new ways to stay entertained when she discovered a love of coloring! She's completed so many pictures over the course of the last year, she's not sure what to do with them. Sometimes she delivers them to friends at Glenwell to give them a smile.
"I'm creating something, and it made me feel good that I could do that," she said.
For more information about Glenwell, please contact Administrator Tina Hagen at (716) 608-7000, at thagen@depaul.org or visit us on Facebook.