It's a Wonderful Life at Wheatfield Commons
December 28, 2021 (North Tonawanda, NY) ─ Holiday cheer was abundant this year at Wheatfield Commons, a DePaul Senior Living Community in North Tonawanda. From fun crafts and celebrations to countless donations, residents and staff are feeling the love!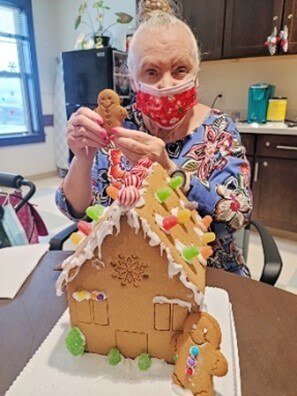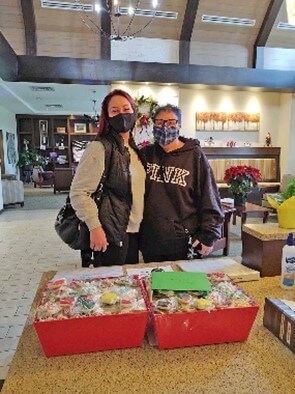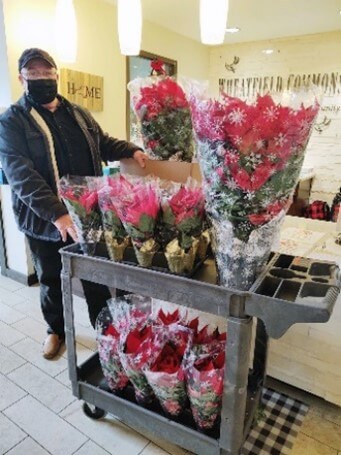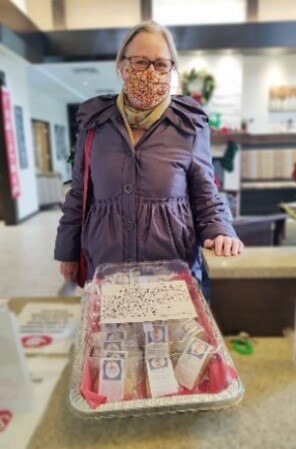 Pictured top row, left to right, Carmella F. shows off a Christmas card she crafted while Christine Pruetz helps assemble a gingerbread house donated by Theresa Weinheimer, and the Tabbi family delivers homemade cut-out cookies.
Pictured bottom row, left to right, the halls were filled with bright red poinsettias thanks to the Davis Family's donation, and everyone's hearts and bellies were full from donations such as a cookie tray from the Parkhill family and goodies from Auntie PhiPhi's Gluten-Free and Keto Home Baked Goods, delivered by Phyllis Gunning.
Many thanks to those who have made a difference at Wheatfield Commons! The outpouring of donations of support in recent months has truly been overwhelming. We are beyond grateful!
For more information about Wheatfield Commons, please contact Administrator Kathy Hyland-Dion at (716) 475-7600, at khyland@depaul.org or visit us on Facebook.