Celebrating a Centenarian Plus Seven! (Westwood Commons)
March 25, 2022 (North Chili, NY) ─ Like the lines in Guy Lombardo's song, "Enjoy Yourself (It's Later Than You Think)," Derna Siebel's advice is to "travel now, because one day you may wake up and not have your eyesight or hearing anymore." A resident at Westwood Commons, a DePaul Senior Living Community in North Chili, Derna, recently celebrated her 107th birthday with a party with her nieces and nephews.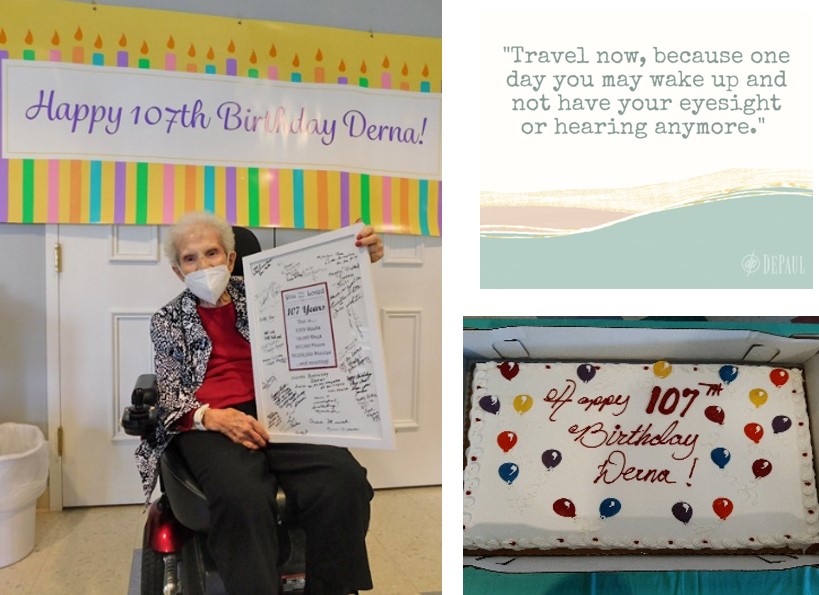 A Rochester native, Derna grew up on Troup Street and paid $25.00 a month for her first apartment. She stayed living in the city of Rochester until she moved to Florida when her second husband retired. The two enjoyed traveling.
Derna worked at a baby food factory. Angered she wasn't getting paid the same as the men, she took a job at Kodak. Known for her good sense of humor, Derna has always enjoyed reading and ironing. She still enjoys reading, but she says, she'll leave the ironing up to the staff at Westwood Commons. Derna is pictured holding a framed birthday card signed by her family and friends during her recent celebration.
For more information about Westwood Commons, please contact Administrator Julie Kornow at jkornow@depaul.org or Marketing Director William Ficarra at wficarra@depaul.org, call (585) 293-2060 or visit us on Facebook.