Irish Eyes Are Smiling at Wheatfield Commons
March 24, 2022 (North Tonawanda, NY) ─  Spring has blossomed a sea of green at Wheatfield Commons, a DePaul Senior Living Community in North Tonawanda. Seniors have been busy celebrating St. Patrick's Day and a centenarian plus two!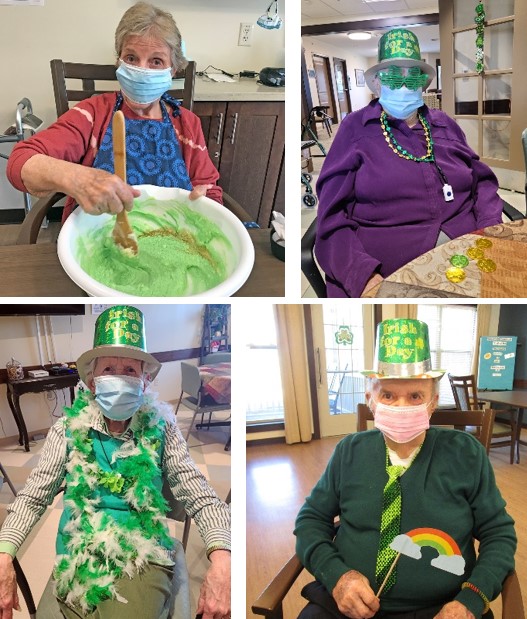 Pictured clockwise above with Irish eyes smiling are Wheatfield Commons residents Angela B., Joy Richardson, Bob L. and Joan Sumner. Residents enjoyed a St. Patrick's photo shoot, crafted yarn shamrocks, made Reuben bites and green cookies, and played "name that tune" – Irish edition!
Another reason for celebration − resident Lenora (Nonnie) Carroll recently turned 102 years young! A native of Nova Scotia, Nonnie has lived in Ontario, Schenectady, Memphis, Oklahoma, Florida and finally Grand Island, where she and her husband Hank were very involved in their community and church.
Nonnie was named Citizen of the Year for Volunteer Services in 2013, one of her proudest accomplishments. Her hobbies include playing solitaire on her iPad, playing bingo and keeping up on the news!
For more information about Wheatfield Commons, please contact Administrator Kathy Hyland-Dion or Marketing Director John Tomes at (716) 475-7600. Kathy can also be reached at kdion@depaul.org and John can be reached at jtomes@depaul.org. Visit Wheatfield Commons on Facebook.