Ron Janicki – Thriving again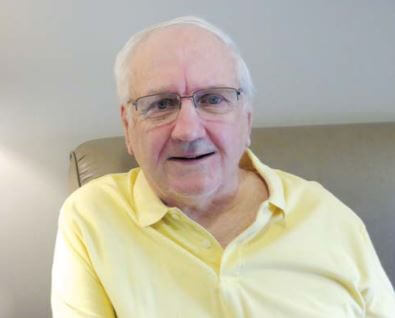 Ron Janicki, 75, is the oldest of five siblings who grew up right in Cheektowaga, New York. A graduate of the State University of New York at Morrisville, he worked at several factory and trucking jobs and is the proud father of his son, a physician who lives out of state, and grandfather of four.
Ron came to Glenwell, a DePaul Senior Living Community in Cheektowaga, New York, 18 months ago from a skilled nursing facility. At that time Ron's sister Elaine indicated he had lost a lot of weight, looked unhealthy, was on many medications, and didn't have hearing aids which made it difficult to communicate. Concerned, she sought assisted living options as Ron did not require nursing home care.
Elaine visited Glenwell and loved the community. When an opening arose in the Glenwell Assisted Living Program (ALP) program, Ron moved in. Ron went from doing very little, not being able to hear, not eating well, being depressed and sleeping much of the time to becoming a different man. He now participates in activities and outings and the DePaul Senior Olympics, has made friends, and sits and has conversations in the common areas. He tells his sister he loves it here. "He smiles now!" she said. "He eats well and loves the food. He has gained weight and looks healthy."
Glenwell staff can also see the difference, noting that he initially kept to himself but now has truly come out of his shell.
"I go to exercise class, play Jeopardy, and like to go out for lunch," Ron said. "The food is good and I like to sit outside or go for a walk. I also attend Mass and have new friends. The staff are friendly and they make my life better. They do a good job at Glenwell."
---
Learn more about Glenwell and DePaul senior living communities.