NOTA's Julia W. Comes Full Circle
By: Amy Cavalier, Communications/Development Coordinator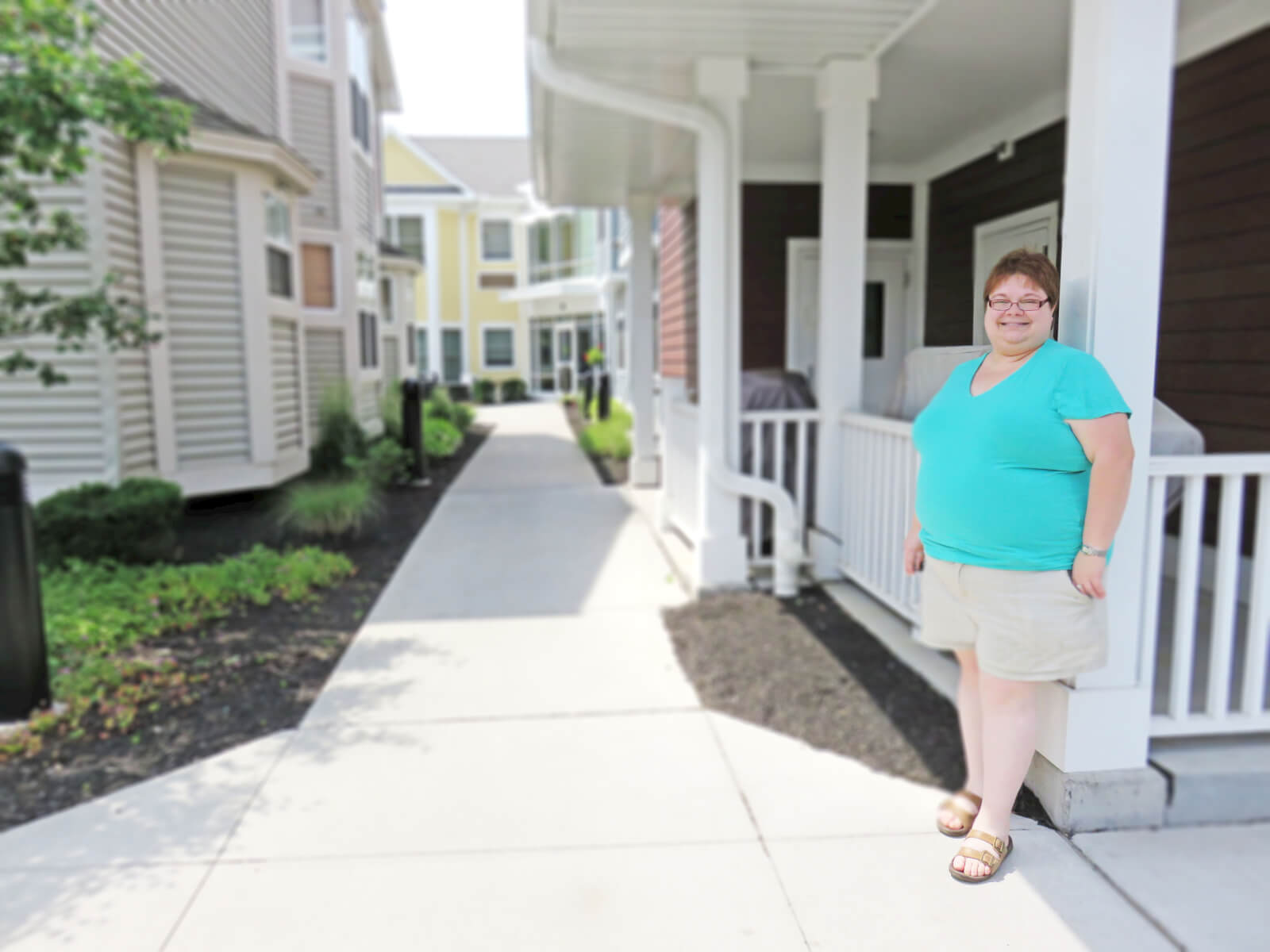 On August 31, Julia W. of DePaul's Neighborhood of the Arts Apartment Treatment (NOTA) program, cracked the books on a new chapter in life as a part-time graduate student in a Masters of Public Health program at the University of Rochester.
It's a dream that the 35-year-old Webster, New York native has put on hold for many years as she learned to manage and live successfully with depression.
"It wasn't really a surprise because hindsight is 20/20," Julia said of her diagnosis. "It had been percolating for a long time."
Everything Happens for a Reason
Diagnosed in 2000 at the age of 19 during her junior year of college, Julia graduated with her bachelor's degree in nursing from the State University of New York at Brockport in 2004. Following graduation, she worked in the pediatric intensive care unit at Strong Memorial Hospital, in medical oncology at Rochester General Hospital and in quality assurance and management in Planned Parenthood for two years.
The final blow came in 2007 when she was served a foreclosure notice on her house. After a suicide attempt, Julia said she wound up at home with her parents where she spun her wheels for a few years, seeking support from a day program. After a second suicide attempt in 2011, she began to formulate a plan to move out on her own.
"Everything happens for a reason, so although that was a terrible experience and I wouldn't want to do it again, it got me here," she said of DePaul's NOTA apartments. "DePaul is awesome in that it has given me the tools with which to put my life back together."
Pursuing Her Dreams 
Julia moved to NOTA in 2012. In addition to the safe and stable living environment, Julia said, her therapist and counselor from Strong Ties have been instrumental in helping her reach the point where she is today.
With her diagnosis under control, Julia has begun pursuing the goal of returning to college for her master's degree. She started with online courses and then applied to the University of Rochester's Masters of Public Health program in the spring. Julia said she threw everything she had into the application process which included three letters of recommendation and a personal statement, as well as passing the GRE General Test, which caused her a lot of anxiety.
She received her acceptance letter on May 11, "the day that shall live in infamy" as she refers to it.
"It was one of the greatest moments of my life right there," she said of being one of 12 students accepted into the program.
Julia said she hopes to get into mental health research including how to improve access to treatment and reducing stigma.
"I have a unique perspective into the struggles people with chronic mental illnesses face and people who don't have the same advantages as I do," she said.
Residential Counselor Meagan Licata said Julia inspires her every day and she considers herself very fortunate to work with her.
"Julia has worked to fight her demons every day with tenacity and determination, and despite how much effort that takes every day, she has accomplished goals that are lofty for people without those obstacles," said Licata. "Her dedication to her craft and her passions have been instrumental in her recovery."
Julia said she hasn't felt suicidal in five years thanks to her stable housing, support network and medication.
"The medicines don't make you better. They don't make you happy," she said. "It gives you a stable platform to build on. It's up to me to do the hard work. Learning to sit with those uncomfortable feelings is part of what you have to do. It's life."
"I take it on faith that this invisible bridge is real and that they're not trying to trick me," she said. "Every day I step a little farther out onto that bridge. Somedays I go forward. Somedays I go backwards, but it's about having faith in yourself and trusting that if that bridge starts to wobble, or if I start to fall off, I can get back on."
For a Few Moments, the World is Perfect
Julia also finds solace in singing with the Rochester Oratorio Society and the Rochester Women's Community Chorus. A soprano, Julia sings a wide variety of music, including pop, Broadway, and more traditional works, but classical music remains her favorite. She's been studying voice with Allyn VanDusen for two years now.
She also won DePaul's Idol Competition in 2015 where she belted out "Easy as Life."
"It took a lot of hard work particularly when I'm performing," she said. "Everything that's wrong stops mattering. I can forget about the depression and in those moments the world is perfect."
While she's struggled with self-esteem, Julia says, singing gives her confidence. She is excited to become a student again, and also nervous because of the workload and student loans.
"There's always the fear of what if I can't do it, but I'm not going to find out unless I try, and I think I can," she said. "One thing I've learned over the years is life is not linear. We go around in circles. We go back and forth, but eventually, we will get ahead I hope!"
---
Learn more about DePaul's NOTA Apartment Treatment Program and our mental health residential programs.